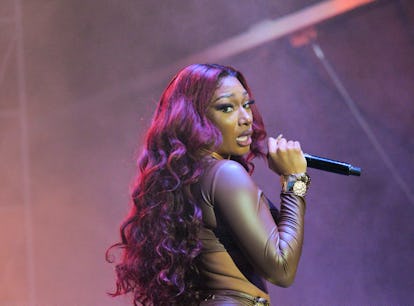 Megan Thee Stallion's "Cobra" Lyrics Call Out A Cheating Ex
Megan Thee Stallion is baring her fangs on her venomous new song "Cobra." The lead single from her upcoming third album ushered in the rapper's most confrontational era yet, and she took her aim at a specific ex-boyfriend. The lyrics reveal that Megan caught an ex cheating on her in her own bed.
"Cobra" highlights the isolation Megan felt in the midst of the highly publicized Tory Lanez trial over the last three years. She raps about being deeply depressed and having nobody close to her to lean on. And apparently, that includes an ex-boyfriend who was unfaithful to her.
In the second verse, Megan raps about hitting "rock bottom" when she caught her partner cheating on her:
Pulled up, caught him cheatin', gettin' his d*ck sucked in the same spot I'm sleepin'.
Megan doesn't call out the ex by name. She's previously been romantically linked to Lanez, rapper Moneybagg Yo, NBA star Michael Beasley, and soccer player Romelu Lukaku. Her longest-term relationship was with Pardison Fontaine, whom she's dated since 2020. Though neither of them has officially spoken on it, it's rumored that Megan and Pardi broke up over the summer.
But it's not just this unnamed ex who catches Megan's smoke on the track. She also takes aim at former friends who didn't support her in her moment of need, and characterizes the media as invasive snakes in her "Cobra" music video.
In one bar, Megan seems to be dissing someone specific, who was saying negative things about her when she was at her lowest:
Honestly, it kinda feel like you plottin', watchin' / Why is you speakin' on me at my lowest when you acted like you ain't noticed?
With "Cobra" as the first taste of Megan's upcoming album, it definitely sounds like her new era will be a vicious and revealing one. She has yet to confirm a name for her next release or when it will drop, but now that its lead single is out, that info should be coming very soon. The album will follow 2022's Traumazine and her 2020 debut Good News.