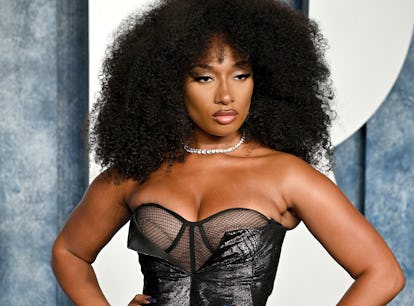 Megan Thee Stallion Is Ready To Move Forward From Tory Lanez Verdict
"I don't plan to keep reliving the most traumatic experience of my life over and over again."
Lionel Hahn/Getty Images Entertainment/Getty Images
Megan Thee Stallion has broken her silence following the Tory Lanez trial. Last December, Lanez was found guilty of three charges for shooting Megan in July 2020. Leading up to his conviction, critics (including Lanez) online accused the Houston rapper of lying about the severity of her injuries. Megan lyrically aimed at those who discredited her truth on her Traumazine album, but that didn't calm the harmful narrative from spreading. Eventually, Megan took a break from social media after the trial, and never spoke about the case until now.
On Apr. 18, the "Her" rapper wrote a personal essay for Elle's May 2023 issue describing the online torment she endured over the last three years. "I don't want to call myself a victim. As I reflect on the past three years, I view myself as a survivor, because I have truly survived the unimaginable," she wrote. "Not only did I survive being shot by someone I trusted and considered a close friend, but I overcame the public humiliation of having my name and reputation dragged through the mud by that individual for the world to see."
In July 2020, Lanez was arrested for carrying a concealed weapon in a vehicle after an altercation with Megan and her former friend Kelsey Harris. At the time, Megan shared she injured her foot from stepping on broken glass; however, she later clarified that Lanez shot her in her foot. At his trial, Lanez was convicted of assault with a semiautomatic firearm, carrying a loaded unregistered firearm in a vehicle, and discharge of a firearm with gross negligence.
In her Elle essay, Megan described the verdict as "more than just vindication for me," but "a victory for every woman who has ever been shamed, dismissed, and blamed for a violent crime committed against them." She also added that Lanez, who she refers to as her attacker, taunted her trauma with jokes, which led some of her "peers in the music industry" to do the same. Though she didn't name the artists, there were several celebrities who openly supported Lanez or used the incident as shock value lyrics in their music.
In July 2021, DaBaby, who frequently collaborated with Megan on both their individual albums, performed with Lanez at Rolling Loud Miami. Kodak Black also invited Lanez to his set at the festival, and was one of many rappers who defended Lanez's character after his guilty verdict in December. In 2022, Drake referenced Megan and the shooting incident in his Her Loss track "Circo Loco," rapping: "This b*tch lie about getting shot but she still a stallion."
In her essay, Megan admitted she was aware of the comments and theories people created about the shooting on social media. "First, there were conspiracy theories that I was never shot. Then came the false narratives that my former best friend shot me," she said, adding these disparaging comments online and from her peers only justified Lanez's actions.
Megan also revealed the public scrutiny she received from the shooting took a toll on her mental health. She recounted falling into a depression, wondering "if people even cared anymore" and facing one reality she never thought would happen: People not believing her truth. "I didn't feel like making music. I was in such a low place that I didn't even know what I wanted to rap about," she said.
Ultimately, Megan knew she needed to be there for herself in order to heal. According to her, she intentionally stepped back from social media, began journaling, spent quality time with her two dogs, and learned how to set better boundaries now that she's moving on to a new chapter in her life.
"My purpose is for these words to serve as the final time that I'll address anything regarding this case in the press," she said. "I understand the public intrigue, but for the sake of my mental health, I don't plan to keep reliving the most traumatic experience of my life over and over again. I'm choosing to change the narrative because I'm more than just my trauma."