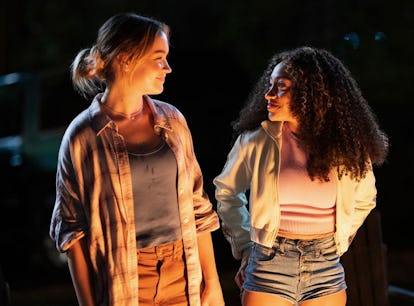 Each Cruel Summer Character's Fake ID Name May Be A Major Clue About Season 2's Twist
They're all very sus literary references.
Freeform
Cruel Summer has only gotten more confusing as Season 2's time-jumping mystery has gone on, but there have been a few clues that seem to point to the truth. Probably the biggest came in Episode 4, when Megan, Isabella, Luke, and Jeff all chose aliases for their fake IDs to try to sneak into a bar. The pseudonyms should have stood out to any book lovers, as all four were literary references. And they may go deeper than just a surface-level references — here's why Megan, Isabella, Luke, and Jeff's fake ID names could be Cruel Summer's biggest spoiler about Season 2's twist.
It's still unclear who killed Luke (or if he's even really dead at all), so everyone's a suspect in Chatham. But a tiny detail in Episode 4 could be foreshadowing how this season will turn out. Isabella's fake ID was already briefly shown in the premiere, which raised some questions about her fake name Patti Highsmith. A few episodes later, it was revealed that Isabella's fake name fit in with a theme among her friends. In order to sneak into a bar one wild night in the summer of 1999, Megan, Luke, and Jeff all created their own fake IDs, complete with names not-so-subtly referencing famous authors. And each name choice could definitely be a hint to how each character fits into Season 2's big mystery. Let's go over them one at a time.
Isabella, AKA Patti Highsmith
Isabella's chosen name may be one of the most important, as it definitely seems to lend itself to the predominant fan theory that she may have a secret, unhealthy obsession with Megan. Patricia Highsmith's two best known works — The Talented Mr. Ripley and The Price of Salt — both center on an outsider becoming obsessed with a new acquaintance. Her novel's are notably queer, which could be another hint at the nature of how Isabella possibly sees Megan. Isabella's curious backstory also has a lot in common with Highsmith's con artist character Tom Ripley.
Luke, AKA Rob Ludlum
Theories had already been bubbling up that Luke might not actually be dead, and his fake ID name only further supports that guess. Robert Ludlum is famous for creating the Bourne Identity novels, about a seemingly unkillable super-spy who's a master at adopting new identities to remain hidden. The name choice definitely seems to hint at Luke possibly pulling a Jason Bourne and faking his death, then restarting his life under a new alias.
Jeff, AKA Raymond Chandler
Jeff's fake name is the only one that's actually called out in the show as being a literary reference. Megan and Jeff bond over their shared love of Chandler's mystery novels, especially his most famous work The Big Sleep. That novel is best known for its characters constantly double-crossing one another, similar to how Jeff has gone from Megan's close friend to someone who hates her between the winter 1999 and summer 2000 storylines. Perhaps Megan double-crossed him, or he double-crossed her.
Megan, AKA Liz George
The name Megan chose is probably the hardest to decipher, in terms of a connection to what her arc might be. Elizabeth George is the author of the Inspector Lynley mystery novels, in which the London-based detective solves various crimes around the city. Maybe the suggestion is that Megan has come up with a plan so airtight even Inspector Lynley wouldn't be able to crack it, or maybe the reference is meant to foreshadow Megan getting caught by the law in the end.