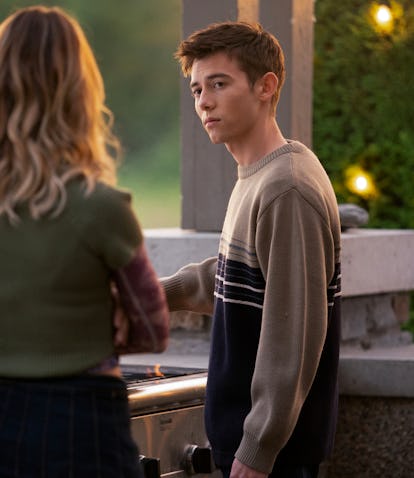 Wait, I'm Shook At This Cruel Summer Theory That Luke Is Still Alive
This twist would be so wild.
Freeform
The new season of Cruel Summer has only just begun, but it's already hit viewers with a tidal wave of twists. From that sex tape revelation to Isabella's secret past, Chatham has more than proven itself to be just as chaotic of a town as Skylin was. And of course, fans are already trying to figure out what the biggest shocker will be... and a lot of the theories all revolve around one character: Luke Chambers. He was seemingly murdered sometime before the summer of 2000, but a growing theory among the fandom claims that he's actually still alive. How could that be? Well, let's dive into it.
Spoiler alert: This post discusses events from the first three episodes of Cruel Summer Season 2. The big mystery this time around is who killed Luke, but there could be another layer to this thing entirely. Since Luke's corpse was never actually shown, the only proof that Luke died that fans have is his father's word. Luke's dad identified the body as his son, and then it was carried away before anyone else could see it. It's hard to believe Steve Chambers would purposefully misidentify his son's body, unless he was involved in trying to cover up Luke's disappearance in some way.
Whatever the case, fans have pointed out a lot of reasons to second-guess if that was really Luke in that bodybag. The main theory is that Luke faked his death with the help of Megan and Isabella, possibly to collect life insurance and run away from his family forcing him to go to a college he detests. There have been some pretty convincing clue to support this, like the stacks of cash found in Isabella's backpack and the cabin being recently clean when the cops investigated it, suggesting Luke may have been secretly living there. Fans also pointed out how he mentioned a longtime pen pal in San Diego during the two truths and a lie game — perhaps that's where he ran off to after faking his death.
Plus, the idea of Megan and Isabella helping cover up a fake murder would help explain their interactions in the 2000 storyline, like how Isabella keeps urging Megan to stick to their story, or how neither of them seemed too heartbroken when passing Luke's grave. The theory does still beg the question of why Luke's dad would say that the body was his son's, though. Could he be in on the scheme for some reason? And if the body really wasn't Luke's, then whose was it? There are still so many questions this season of Cruel Summer needs to answer. Hopefully, all will be revealed as new episodes drop Mondays at 9 p.m. ET on Freeform, and stream next day on Hulu.