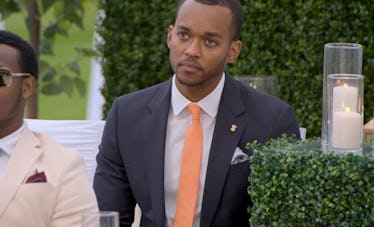 Marshall Got His Love Is Blind Wedding In The End... Just Not How He Expected It
At least he got one authentic relationship out of the show.
Netflix
On the surface, it may look like Marshall was had the worst run on Season 4 of Love Is Blind, but he actually had a lot to celebrate in the end. He may not have found a wife, but he did realize his worth by ending a toxic relationship. Plus, he made a lifelong connection with fellow contestant Brett. Marshall didn't get his own dream wedding, but his invitation to Brett and Tiffany's Love Is Blind wedding proved he ended the show with at least one important new relationship.
Spoiler alert: This post discusses details from the Love Is Blind Season 4 finale. The writing was on the wall for Marshall as soon as he met his fiancée Jackelina face to face. Their connection in the pods was undeniable, but it didn't translate to attraction in the real world. Marshall's attempts at providing care and communication annoyed Jackelina rather than impressing her, and the whole relationship finally fell apart after she demanded he be more "aggressive" with her. To make the breakup even worse, Jackelina started dating the much cockier Josh right afterward, leaving Marshall alone and heartbroken just days before he was supposed to get married.
But thankfully, Marshall found a silver lining on his would-be wedding day. Brett invited his buddy as a guest to his own wedding to Tiffany, and their conversation ahead of the ceremony showed how important their bond has been throughout the season.
Marshall got emotional by admitting that attending the event was difficult for him given what he'd just been through but told Brett that he had to be there to cheer his bestie on. Continuing his reputation of always knowing the right thing to say, Brett comforted his friend by highlighting the upside of his breakup with Jackie. "What's meant to be will be. That wasn't meant to be," he said.
Seeing Marshall genuinely supporting Brett in the audience at his wedding was proof enough that Marshall did find love on Love Is Blind. No, it wasn't romantic love, but the platonic love for a new best friend.