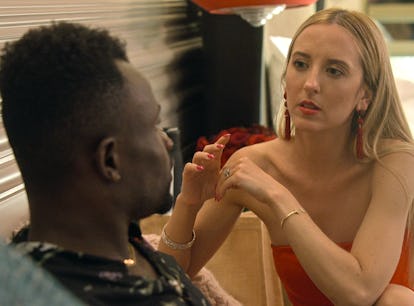 Are Love Is Blind's Chelsea & Kwame Making Too Many Compromises?
Two relationship experts weigh in.
Netflix
Falling in love, especially when it involves Netflix-funded vacations to Mexico, might seem like a breeze — but no matter how well-suited you are as a couple, there's bound to be some compromises made. On Love Is Blind Season 4, Chelsea Griffin and Kwame Appiah's connection might be the most obvious example of this. But as most of their filmed conversations revolve around negotiations (about everything from when to do dishes to where to live), it's hard not to wonder: How much compromise is too much? Will it ultimately hurt their relationship?
Spoiler alert: This post discusses moments up to and throughout Episode 12 of Love Is Blind Season 4. Only a few weeks into their engagement, Chelsea and Kwame have already felt the growing pains of merging their misaligned lifestyles. Kwame's home base is Portland, where he's a remote worker. Chelsea lives in Seattle, where she works in-person as a speech pathologist. For Chelsea, the solution seems fairly simple: Kwame should move to Seattle since he has the flexibility to work from anywhere. Plus, Chelsea's family is in Seattle, and she doesn't want to leave them. But Kwame doesn't seem too happy about the potential move, making several comments about how he'll miss his running route and football team in Portland.
That's not the only point of tension between them. Throughout the season, Kwame also talks about his concerns with being tied down — whether that involves taking care of Chelsea's dog while she's at work or eventually having kids together. Though Chelsea insists they'd be able to figure it out (dog walkers and nannies exist, after all), it's clear they have different ideas of what their future should look like and what timeline they want to follow. Plenty of compromises ensue, but are they healthy agreements or something less productive?
When Compromise Works — & When It Doesn't
To take a step back from the ~magic~ of reality TV, let's be realistic: Going from living as a single person, in your own apartment, on your own schedule to joining your life with somebody else can be hard (especially when you're doing it basically overnight). Even the most loved-up couples might struggle to adjust, but it's hard to tell if Chelsea and Kwame's tensions are the result of growing pains or something deeper.
"Healthy negotiation is a foundational part of a healthy relationship," Liz Higgins, LMFT-S, couples therapist and founder of Millennial Life Counseling, explains to Elite Daily. "While we don't always get what we primarily want, we feel security in the fact that we are working toward a joint lifestyle and end goal with someone who is aligned in a shared life and vision." The issue with Chelsea and Kwame, then, is the fact that they don't seem to be on the same page when it comes to what they ultimately want — even if Chelsea's desires are more closely aligned with Love Is Blind's purpose this season (namely, finding a life partner from the Seattle area).
For compromise to be effective, both partners need to be fully committed to making the necessary adjustments; they have to be all-in. Unfortunately, that's not what's happening here. At one point, Kwame tells Chelsea, "If we're being honest, baby, the compromise coming from this side is pretty big." Later, he says to another cast member, "I'm somebody who tends to compromise a lot, and that's what I'm trying not to do here." (Kwame also not-so-subtly compares this to his relationship with Micah Lussier in the pods, which he says involved "no pressure.") Viewing compromise in that negative light can lead to problems down the road, according to experts.
"If one person leaves a situation or decision feeling that they have 'lost,' then I don't look at that as a healthy compromise," Higgins says. "The worst thing is for these small seeds of resentment to turn into deeper, dysfunctional elements of the relationship that are hard to come back from." Natalia Juarez, relationship coach and founder of Lovistics, agrees. "You know you are compromising for the right reasons when the agreed-upon decision stretches your comfort zone, but doesn't leave you feeling resentful," she says.
Compromise shouldn't come with strings attached.
So, where does that leave Chelsea and Kwame? It certainly looks like those compromises end up being for the best; the duo ends the show by saying "I do" at the altar. However, there's no telling how their relationship will fare long-term, particularly if Kwame continues to keep score. "Compromise shouldn't come with strings attached," Higgins points out. "It can a wonderful way to nurture your relationship, but it shouldn't come at the cost of your needs and wants."
If Kwame continues to complain about what he is "giving up" for the relationship, it seems like he and Chelsea might just be stuck — not because one is necessarily at fault, but because they want different things. "While compromise is a natural and healthy part of relationships, it's also important for a couple to be well-matched," Juarez points out. "When a relationship is truly give-and-take, there is a mutual understanding that both partners will need to compromise at one point or another." In these healthy scenarios, making adjustments — though it may be difficult — isn't a huge deal, because there's an understanding that you and your partner both want the same thing: for your relationship to work.
Without that mindset, it can be nearly impossible to achieve a healthy compromise (or a long-lasting relationship) — and unfortunately, what audiences have seen of Kwame and Chelsea's relationship includes plenty of these warning signs. Only time will tell if they were just in a tricky adjustment period, or if their relationship folded under the pressure of those concessions.
The Love Is Blind live reunion on Sunday, April 18 at 8 p.m. ET.