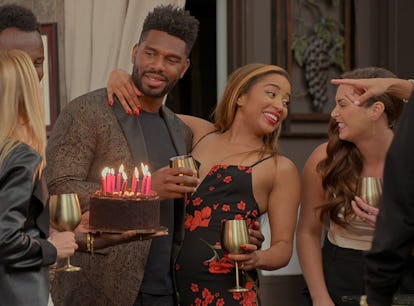 16 Love Is Blind Filming Locations You Can Visit In Seattle
Grab a bite to eat where Zack and Bliss had their first date.
Netflix
The show's format may stay the same, but the drama and cities change each season of Love Is Blind. This time around, couples who found love in the pods like Brett and Tiffany call Seattle, Washington their home. Seattle might be most famous as the home of Starbucks coffee and grunge music, but there's more to explore and hidden gems to discover. For anyone planning a trip to the Pacific Northwest who happens to also be a fan of the show, you may want to add a few of the Love Is Blind Seattle filming locations to your agenda as well.
Once the couples left their luxe resort in Mexico — aside from Zack and Irina — they traveled back to their hometown to see if their relationships could last outside of their Love Is Blind bubble. This is when fans got to see a bit more of Seattle as the couples introduced their partners to their friends and family. A lot of the Love Is Blind locations in Seattle are eateries and bars, like the bar where Paul introduced Micah to his mom — aka Micah's twin.
This list of Love Is Blind filming spots is great for traveling foodies, but you can also make a pit stop on your Seattle vacay to check out the houses where the couples stayed together or even spend the day on a boat like the one Zack proposed to Bliss on. If you're looking for travel recommendations, let Love Is Blind Season 4 be your guide.