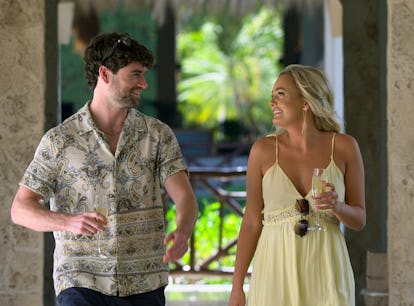 Inside The Love Is Blind Season 4 Resort & How Much It Costs
It looks like Tiffany and Brett had the most $$ suite.
Courtesy of Netflix
First comes love and an engagement sight unseen, then comes a vacay in Mexico. It may not be the traditional way for a relationship to begin, but that's the journey couples go on when they participate on Love Is Blind. Once a couple gets engaged, they finally get to see each other right before being whisked away to a luxury resort to get know one another. That luxury resort for Season 4 of Love Is Blind is the TRS Yucatan in Playa del Carmen, Mexico, and you can stay there just like Tiffany and Brett.
This isn't the first time Netflix has chosen Mexico as its filming location for the reality TV dating series, but this is the first time they're checking into the TRS Yucatan. The five-star hotel on the Riviera Maya coastline provides stunning views of the Caribbean Sea, and a romantic backdrop for couples falling in love. There is a private beach club, but if you're more of pool person, they have six for you to choose from. The Helios Pool is located right next to the beach, while the El Secreto has a swim-up bar. While they probably won't be serving drinks in Love Is Blind's iconic golden wine glasses, you can order yourself a margarita to sip on as you soak up the sun.
Of course, if your goal is to vacation where Love Is Blind Season 4 was filmed, you'll be most excited to stay in one of the suites where the couples also stayed.
How Much Are The Love Is Blind Suites?
In Episode 4, Tiffany and Brett can be seen enjoying dinner outside by their very own pool. Taking a closer dive, it looks like they're at one of the private pool suites with a garden view at the TRS Yucatan Hotel. Depending on when you decide to visit Mexico, this suite is around $839 to $981 a night.
For something a little more affordable, you might want to stay in the suite that Chelsea and Kwame or Micah and Paul stayed in. This was the junior private pool suite, which is about $521 to $609. All of the suites at the TRS Yucatan Hotel are all-inclusive and come with a butler service. Most of the rooms chosen for Love Is Blind also come with their own private pools, which means you won't have to leave your room if you plan to lounge out poolside. However, if you decide to go with a lakeside suite like Zack and Irina's, you'll want to venture out to see what else the hotel has to offer.
Ironically, they were given the Romance Bungalow by the lake, which is about $530 to $574 a night. While there wasn't much romance going on between them, you and your partner will find a lot of things to love about this cabin-style suite. It even comes with your own canoes if you're feeling adventurous.
Ultimately, you're looking at spending around $521 to $839 a night for a weekday room during the off-season and something closer to $609 to $981 if you want a weekend getaway during the summer. Those prices are cheaper than staying at a White Lotus resort, but nothing to sneeze at.
While you're there, you might as well go big during your bougie getaway. Enjoy some of the other amenities that the Love Is Blind couples took advantage of. For instance, Paul can be seen giving Micah a massage at the Zentropia spa. An 80-minute couples massage is around $341, and you could also book a hydra-cloud facial for $263 while you're there. Adding all of that onto your suite, it's time to start saving some money now if you want to experience a Love Is Blind getaway soon.