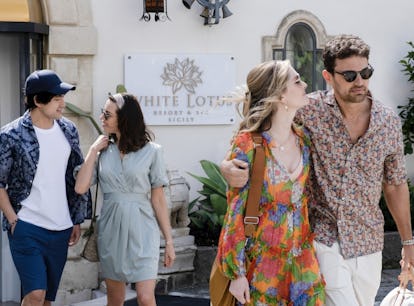 Fans Think This Is The White Lotus Season 3 Resort In Thailand
It looks like a resort Tanya McQuoid would love to visit.
Fabio Lovino/HBO
Get those bags packed and passports ready, because fans now know where The White Lotus Season 3 will be filmed. Rumors started circulating back in January that Season 3 would take place in Thailand after the show's creator, Mike White, posted a video from the beach of a Southeast Asian country. Now that it's officially been confirmed that The White Lotus Thailand is coming, fans are starting to wonder exactly which resort the cast and crew will call home during production — after all, each White Lotus resort is pretty much a main character in every season's plotline. Two Four Seasons hotels have stood in for the luxury White Lotus resorts in Hawaii and Italy, so some fans think that it only makes sense they'd choose another Four Seasons resort this time around for Season 3.
Looking at Thailand, the Four Seasons Koh Samui seems to be the front-runner for where the White Lotus Season 3 is filming because of its beachy location. While there are actually four Four Seasons in Thailand, Koh Samui is the only resort with its own private beach. The White Lotus has favored island getaways in the past, so many fans like travel writer Chris Dong think this is why Koh Samui is where the show will be.
Dong speculated that with White Lotus 3 taking place in Thailand, "this all but confirms Four Seasons Koh Samui is where the next season of the show is filmed, right?" In addition to it being the perfect choice if we're following a pattern, White was also spotted sitting in front of a beach as he was teasing the third season.
The Four Seasons Koh Samui does look like a resort Tanya McQuoid would love to visit — if she hadn't fallen off that darn boat. If bets were being placed, this is likely your best one. In either case, Thailand is sure to be the next big tourist destination like Sicily was after The White Lotus hype took over. If you'd like to stay at one of the potential filming locations for Season 3 of The White Lotus, here's where each one of the Four Season hotels in Thailand is located and what comes with each stay.
Four Seasons Resort Koh Samui
Located right next to the Gulf of Thailand, you'll have gorgeous views of the water from your room at the Koi Samui. If you prefer to be right on the beach, there is a beach villa with its own private pool. However, you'll need Tanya's fortune in order to book it. The one-bedroom villa averages around $1,740 a night, and only sleeps two adults.
For a little more budget-friendly option — that's still out of Portia's price range — you have the one-bedroom pool villa that is about $778 a night. That's actually a lot cheaper than the rooms at The White Lotus in Sicily. While Tanya and Portia don't need a lot of rooms, there are larger residence villas with up to five rooms. The four-bedroom residence villa, which sleeps up to 12 adults, is around $6,084 a night.
Each of the villas comes with its own pool, but the resort also has an infinity pool and private beach for all guests. The spa at the resort actually allows you to book a massage on the beach as well as other services. Something that makes the Four Seasons Resort Koh Samui different than previous Four Seasons featured on The White Lotus is that they have a Muay Thai ring. That would have definitely come in handy at the end of Season 2 when Ethan found out about Cameron and Harper. Since it has the same vibes as The White Lotus in Maui, this seems like it would be the perfect location for The White Lotus in Thailand.
Four Seasons Tented Camp Golden Triangle
If HBO is looking for something a little different for Season 3, they might choose a location like the Four Seasons Tented Camp Golden Triangle. This resorts offers guests a chance to experience luxury camping — or glamping — in the jungle. While it doesn't look like where White was staying, it would be interesting to see guests stay in their own tented suites. The Deluxe Tent offers views of either the Ruak River or jungle and mountains of Burma along with your own hot tub for $2,925 a night. There is also a two-night minimum.
The most expensive accommodation is the Explorer's Lodge, which sleeps up to six people. It's like having your own jungle home with an infinity pool. That costs $5,556 a night, and that's not even including the service charge and taxes. While you're at the resort, though, you can also enjoy their riverside pool, jungle spa, and wine cellar.
Four Seasons Hotel Bangkok At Chao Phraya River
The least likely to be the next White Lotus Resort is the Four Seasons Hotel Bangkok at Chao Phraya River, because it's a hotel and not a full resort. There may not be as many filming locations within the Four Seasons, but of course, the guests in Season 2 didn't just stay at their White Lotus resort.
Daphne, Harper, and Tanya all went to other locations. Since the Bangkok Four Seasons is located right in the middle of Thailand's capital city, they'll have plenty of places to explore on day trips. Plus, the Riverside Penthouse is worthy of a White Lotus stay. There's also a spa, Muay Thai gym, and infinity pool with gorgeous views of the city.
Four Seasons Resort Chiang Mai
Another potential location for the new White Lotus Resort is the Four Seasons Resort Chiang Mai. Instead of the jungle or beach, you have the Northern Thailand rice fields out your window. It's truly a one-of-a-kind view, and would make Season 3 unique as well. Just like the rest of the Four Seasons resorts, the Chiang Mai resort has a spa that guests on the HBO series could visit.
It's also a great place for foodies and anyone looking to relax with yoga, which might be necessary if the show is as dramatic as the previous seasons. They also have grand villas, which are up to White Lotus guests' standards. For $5,419 a night, the four-bedroom grand residence pool villa has mountain views, a private pool, and four full bathrooms. Even if the show is stressful to watch, it'll be beautiful at the same time with such a wanderlust-inspiring filming location.