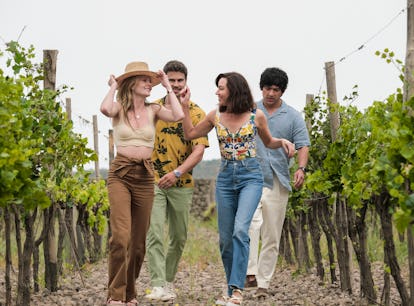 Wait, Did Mike White Just Confirm The White Lotus' Season 3 Location?
The top fan theory may be proven wrong.
HBO
Since The White Lotus became a hit, the locations of the fictional titular resort chain have been a central point of speculation. Season 1's White Lotus resort was in Hawaii, Season 2's was in Sicily, and, with more episodes on the way, viewers were quick to start speculating the next resort the show would visit. However, series creator Mike White may have hinted The White Lotus Season 3 is heading to Thailand, upending current theories about it being elsewhere.
Warning: Spoilers for The White Lotus Seasons 1 and 2 follow. Mike White wrote the original season of The White Lotus with no assurance of a renewal. The series suggested the White Lotus resort was a chain, but there were no hints of where another adventure might take place or which characters might cross over.
That said, no one was surprised that Season 2 followed the further adventures of Tanya McQuoid, as Jennifer Coolidge's turn in the first season made her a fan-favorite. It was a bit surprising that she'd gotten married to fellow Season 1 guest Greg Hunt (Jon Gries) in the intervening months; however, it turned out Greg was insisting on staying at a White Lotus again so that his mafia assassin friends could off his newly acquired and increasingly inconvenient spouse.
With Tanya drowning at the end of Season 2 and Coolidge confirming her character is gone for good, fans have been theorizing where Season 3 might head. The most popular theory holds the series will follow new fan-favorite Daphne and her husband Cameron to their planned vacation "next year, the Maldives." However, a new video from Mike White could mean that theory is wrong.
The video was recorded by White as a thank-you to writer Evan Ross Katz, who's been hyping The White Lotus since its debut. Katz posted it to Twitter with a shocked exclamation, suggesting he had not expected a personal thanks like this.
But fans have taken that exclamation also to suggest White's video is more than just a guy relaxing on a beach on a well-deserved break between seasons on a Thai vacation. After all, White is on a beach that would rival the ones featured in Seasons 1 and 2's resorts, and the background behind him also looks like it could easily belong to a five-star White Lotus Thailand Resort & Spa location.
Of course, this could all just be the product of fans looking too deeply into any nuggets of info they can get. It would not be the first time fans jumped to the most complex solution instead of a simple Occam's Razor answer. Sometimes a video of a man having a drink on a beach is just a man having a drink on a beach.
Viewers will have to wait until HBO announces details for The White Lotus Season 3 to learn if this new Thailand theory holds any water. Seasons 1 and 2 are streaming on HBO Max.