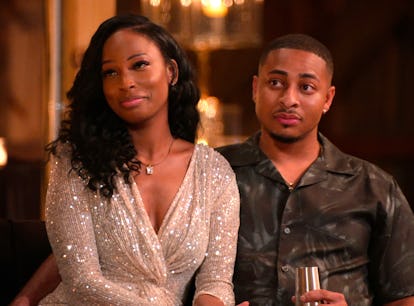 Lisa & Brian Reveal Who Their Trial Marriage Partners Would've Been
This season could have been wildly different.
Netflix
Spoiler alert: This post discusses details from the first three episodes of The Ultimatum Season 2.
In Season 2 of The Ultimatum, the biggest twist didn't come at the end but right away in the first couple of episodes. After only just starting to get to know everyone else in the experiment, Lisa and Brian withdrew from The Ultimatum after Lisa learned she was pregnant. It happened so soon that they never even got to choose who their trial marriage partners would have been. But, of course, they both had a good idea about that decision. So now, Lisa and Brian are spilling the tea to Elite Daily about who they were planning on fake-marrying for three weeks.
Before Lisa found out she was pregnant, she and her commitment-phobic boyfriend Brian started to get close with a few of the other daters. However, they left the experiment right before it was time to decide on a trial spouse. Lisa's choice shouldn't come as a big surprise after watching her dates.
"I was leaning towards Trey at the end," Lisa tells Elite Daily of what her choice would have been. "We had a lot in common, and he was very empathetic and super nice."
As for Brian, he was still wrestling between two options when he left the show. "For me, it was definitely between Roxanne and Riah," Brian says. "Those are the two that I went on the most dates with, and I had the most connections with for various reasons. It really was becoming a tough decision because I felt both of them, honestly, could have really brought the best out of me throughout the experience."
Before their exit, Lisa and Brian's short time on The Ultimatum was filled with turmoil, from late-night breakdowns over wanting to quit to an all-out parking lot screaming match.
Despite the turbulence, both Lisa and Brian are confident that they would have lasted the whole time in the experiment if not for the pregnancy.
"I definitely know I would've been able to stay," Lisa says. "It probably would've been a lot more drama and antics on my part, but I definitely would've seen it through."
"At the end of the day, our goal is to see it through," Brian says. "In the moments that she didn't want to be there, I was like, 'We can do it because we came here for a reason.' And I feel like if the roles were reversed, she would've been there with me trying to push me through, too."