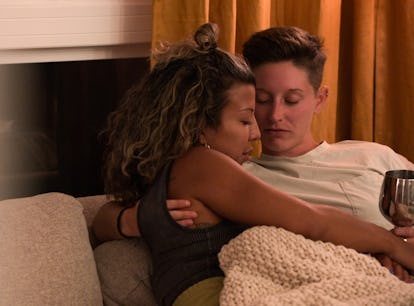 Xander & Yoly Revealed If They'd Ever Rekindle Things After That Ultimatum Reunion
Their chemistry was undeniable, but have they moved on?
Netflix
The trial marriages on the latest season of The Ultimatum were, predictably, kind of a disaster. Tiff and Sam fought over dogs, Vanessa and Rae imploded their love lives, and Mildred and Aussie couldn't even make it to the end of their time together. But there was one couple that met through the show that actually sparked some serious chemistry. Xander and Yoly really seemed perfect for each other, even if they were only trying things out for a couple weeks. That's why it wasn't too shocking when, during the reunion, they revealed they had kept talking and even met up after filming the show. Their vibes had everyone wondering if Xander and Yoly will date again after reconnecting at The Ultimatum reunion, and the duo has an answer.
Xander and Yoly's three-week trial marriage seemed almost like destiny. They both came into The Ultimatum with a partner who was dragging their feet to ever get married, and that issue was completely erased for both of them when they found each other. And because of that, things moved incredibly fast. Before the three weeks were up, the trial marriage felt like a real one, which is what made Yoly's final decision such a surprise. While Xander left Vanessa to explore things with Yoly, Yoly had accepted Mal's proposal, saying she was in love with two people and needed to make a choice.
But that choice didn't work out. At the reunion, Yoly and Mal revealed they broke up very quickly after leaving The Ultimatum. On the other corner of the love triangle, Yoly and Xander had remained in communication, and even talked about planning trips to Hawaii and met up at Coachella. They confirmed nothing romantic had happened, but the suggestion that something could was definitely there.
But shippers, don't set sail just yet. In an interview with People, Xander admitted her and Yoly's spark "fizzled out" after filming. Yoly echoed the sentiment, adding that while they worked on the show, they've both evolved to a point where they just wouldn't make good romantic partners anymore.
"With all love and respect for Xander and for myself, the person that I was while on the show... was somebody who was over-compromising of self and just taking less than what I deserved," Yoly said. "Xander didn't give me scraps, but I would've had to compromise parts of myself that I didn't want to. I don't think that fundamentally as a person, she would change [either]. I don't want anybody to change that much for me. But I don't think that in the future we would. Maybe. You know, maybe. There's so many things there that I'm drawn to still. But I think just fundamentally we need different things."
Sorry, Xander and Yoly shippers, but it sounds like their relationship is in the past.