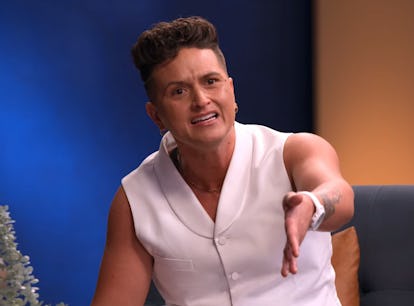 Let's Dissect What Happened With Mildred & Tiff After The Ultimatum
Pet gates, dog surgeries, and sex board games?
Netflix
Despite all the messiness, it was actually starting to look like The Ultimatum: Queer Love was going to have a (mostly) happy ending. Four out of the five couples wound up getting engaged in the finale, which is a pretty remarkable success rate for this kind of reality dating show. But of course, this is a reality dating show, so nothing's official until the reunion. And oh boy, did that reunion shake things up. The stars of the episode were Tiff and Mildred, whose fiery breakup reached a new stratosphere of drama as shocking allegations kept pouring out nonstop. It was so overwhelming, that you might need a breakdown of exactly why Mildred and Tiff broke up after The Ultimatum: Queer Love.
The communication and anger issues between Tiff and Mildred have been pretty apparent from the start. From Tiff's blowup at Sam to Mildred's assertiveness causing Aussie to leave the experiment, both parts of the couple brought their baggage with them into their trial marriages. It was Tiff's friend Natasha who finally spelled it out for them — there was just no way their explosive relationship could ever be sustainable. But despite that, Tiff got on one knee at the end of the experiment and proposed to her longtime on-and-off girlfriend.
Needless to say, the engagement didn't last. But exactly what happened to cause the breakup is the real twist. During the reunion, Mildred accused Tiff of about a million and one faults, most of which Tiff denied or wrote off as gaslighting.
Things got so heated that it was hard to even keep all the drama straight, so let's go over the alleged timeline of the most eventful breakup in history:
1. Tiff and Mildred move in together.
After leaving The Ultimatum as a couple, Tiff and Mildred revealed they moved in together, but Mildred claimed that during this time Tiff refused to plan their wedding or advance the relationship. She also claimed that Tiff didn't get along well with her son. Tiff admitted that although she tried to bond with Mildred's kid, things never really clicked.
2. Tiff and Mildred disagree over how the rent is divided.
Mildred claimed that Tiff told her to pay two-thirds of the rent for their shared place because her son was living there with them. Tiff denied parts of this. She said she asked Mildred about how to split up the rent, but never made demands.
3. Mildred is arrested for getting aggressive with Tiff.
The couple finally broke up after Mildred threw a picture frame and a pet gate at Tiff. Tiff called the police after the incident, and Mildred was arrested.
4. Tiff starts dating again, while still living with Mildred.
Although they broke up after their fight, Tiff and Mildred continued living together, and Mildred took issue with her ex downloading a dating app while still sharing a home. In particular, she was upset to find an unfamiliar eyeliner in the house, although it doesn't sound like she ever actually saw Tiff with someone else.
5. Tiff orders "sex board games." Or maybe she doesn't.
The most confusing part of the whole situation was Mildred accusing Tiff of ordering "sex board games" to the house. Tiff denied this, saying she doesn't even know what these "sex borad games" could even be. Mildred didn't name or describe the games, but said she had photos of them that she'd send to Tiff.
6. Tiff texts Mildred's family about Shylo's surgery.
While it's hard to pin down the exact dates of everything else, one fact we do know is that Tiff and Mildred had been apart and not on speaking terms long before Christmas. Mildred claimed that Tiff had texted her and her family members on Dec. 24 with updates about her dog Shylo's emergency surgery. Mildred said the texts were invasive, since they hadn't spoken since she moved out of their shared home.
Phew, got all that? Yeah, it's a lot. No wonder Tiff had to leave the reunion after Mildred hit her with that laundry list of allegations. It's unclear how much of this is true and how much is fabricated or twisted to serve a narrative, since Tiff did say through tears that a lot of it was a lie. But until either Tiff or Mildred provides an update on the situation, this is everything fans know about the most chaotic breakup to ever happen.