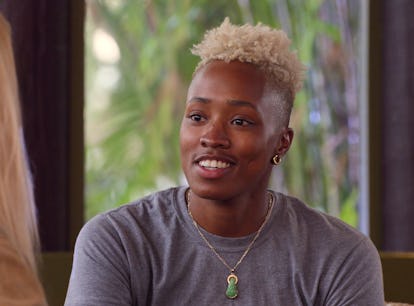 Mal From The Ultimatum: Queer Love Is Like, The Chillest Person Ever
Netflix
Nobody was surprised to find that The Ultimatum: Queer Love was pure chaos, but in the middle of all the messy drama, Mal was a welcome source of chill, calming support. Like everyone else, she entered into the experiment with some relationship baggage, but as she started to give herself over to the process, she began to discover that marriage may not be such a scary thing after all. Here's everything to know about Mal Wright's life outside of The Ultimatum: Queer Love.
Mal arrived with her girlfriend Yoly, a stylist who had gotten fed up with waiting for Mal to propose to her. The couple had been together for three years, but Mal still didn't think they were ready for the next step. Mal claimed her main concerns were financial, wanting to be sure they saved up enough money to start their marriage off right, but Yoly just saw that as an excuse.
While Mal may have been stubborn on the whole marriage thing, she seemed to soften up once she started her trial marriage with Lexi. The two formed a stable, grounded relationship surprisingly quickly, and Mal proved how supportive she could be by comforting and consoling Lexi in the heat of her drama with Vanessa. Mal even shared she was starting to come around to the idea of marriage... but will that be with Yoly or Lexi? That question won't be answered until the season's end, but while you wait, you can always stalk Mal's Instagram for any clues.
The Ultimatum's Mal Wright's Instagram
Mal's Instagram is the place to go for fire 'fits, dreamy travel photos, and the most adorable pug pics. She also has a Twitter where she shares all her opinions, and a TikTok full of funny videos.
The Ultimatum's Mal Wright's Age
Mal was 36 while filming The Ultimatum: Queer Love, making her the oldest contestant on the season. Her birthday is on Aug. 27, she revealed on Instagram.
The Ultimatum's Mal Wright's Real Job
Mal does not reveal what she does for work on the show or on any of her socials.