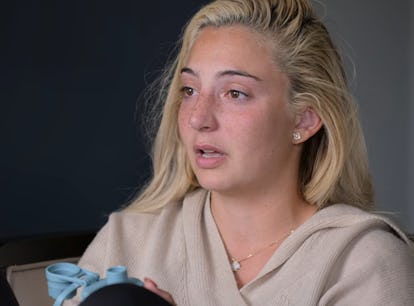 Lexi Is The Hero The Queer Season Of The Ultimatum Needed
She's calling out all the fake BS.
Netflix
She may be the youngest person on the Ultimatum: Queer Love cast, but Lexi Goldberg definitely isn't immature. She's ready to tie the knot with her girlfriend Rae, but also puts a lot of value in the trial marriage experience. So much so that she isn't afraid to call out anyone she feels isn't taking the show seriously. Lexi's self-confidence is evident, so it's no surprise that she was a social media sensation even before coming on The Ultimatum. Here's everything to know about Lexi's life outside of the show.
Lexi immediately become one of the central personalities in the queer season of The Ultimatum, sparking early romances with both the free-spirited Vanessa and the more grounded Mal. For a while, it looked like Lexi and Vanessa could be a perfect match, until their relationship went up in flames before it could really begin. When Vanessa implied that she was unworried about her partner Xander truly finding a match through the process, it struck a nerve for Lexi. She accused Vanessa of not fully investing herself in The Ultimatum and immediately cut ties with her.
But things got complicated when Lexi's partner Rae selected Vanessa for her trial marriage. Lexi was adamant that Vanessa didn't come on the show for the right reasons, but Rae only got closer and closer with her. It all led to a huge blowup after Lexi learned Rae and Vanessa hooked up.
If you were living for Lexi's confident call-outs, here's what you should know about her real life.
The Ultimatum's Lexi Goldberg's Instagram
Lexi was already huge on social media before The Ultimatum aired. She has over 560,000 followers on IG, and over 340,000 on TikTok. She uses her Instagram to share her modeling pics, podcast appearances, and everyday snapshots at the gym or football games.
The Ultimatum's Lexi Goldberg's Real Job
Lexi is an influencer, model, and OnlyFans creator.
The Ultimatum's Lexi Goldberg's Age
Lexi was 24 while filming The Ultimatum, making her the youngest contestant on the season. Her birthday is on Dec. 24, she revealed on Instagram.