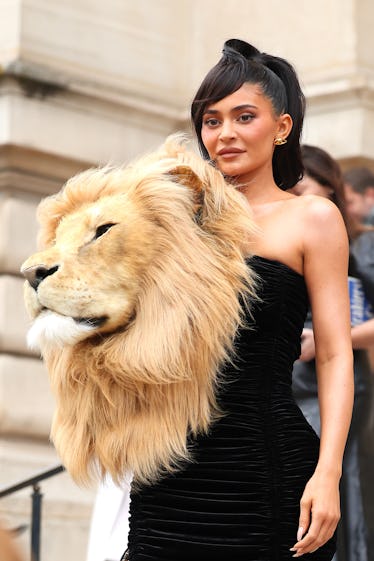 The Internet Is Spiraling Over Kylie's Wild Lion's Head Outfit
Jacopo Raule/Getty Images Entertainment/Getty Images
Celebrities took jaw-dropping risks at this year's Paris Fashion Week, including Kylie Jenner. This season lives for theatrical frills and Kylie has understood the assignment so far with her dreamy Maison Margiela 'fit (think Cinderella, but make it couture). However, her recent look at the Schiaparelli Haute Couture Spring/Summer 2023 show has left the internet in quite an uproar— literally.
On Jan. 23, Kylie stepped out at the fashion show wearing a ruched black gown adorned with a fake lion's head. She completed the campy outfit with black and gold accessories, including a snakeskin purse, gold toe heels, and eye-shaped earrings. This Schiaparelli look was certainly a moment, largely because she wore the dress front row as model Irina Shayk debuted it on the runway.
Naturally, she showed off the ensemble on Instagram, and made sure to emphasize the lion head was not real. "BEAUTY AND THE BEAST. thank you @danielroseberry and @schiaparelli for such a special morning. wow i loved wearing this faux art creation constructed by hand using manmade materials. beautiful beautiful," she captioned the post.
IYDK, the velvet number is from Daniel Roseberry's Spring-Summer '23 collection. According to W magazine, this collection is an homage to Elsa Schiaparelli's love for animals, so every design boasts three sculpted animals: a she-wolf, leopard, and a lion. Though the gowns speak for themselves in their sumptuous beauty, each animal head was intricately sewn in for a reason. To Roseberry, these animals represent "the glory of nature and guard[ed] the woman who wears it," per W.
According to Vogue, this faux accessory was made out of faux fur, resin, and foam, which lines up with Kylie's words in her Instagram post. So, don't fret: No real animals were harmed in the creation. However, as Kylie's look made waves on the internet, there was mixed reception to her shoulder mane. While some were in awe of how much it elevated the dress, some couldn't look past how hyper-realistic the lion appeared.
Specifically, users took to the comments section of her Instagram post to share their thoughts.
Instagram
Some users were here for Kylie's look, and compared it to her Leo zodiac sign.
Meanwhile, some users didn't appreciate how the animal head sculpture was nuzzled on her shoulder. Being that it stood out as the gown's main attraction, a few believed it glamorized hunting against the lion species.
Another user noted that this dress could've done without the lion's head and still been a moment.
Twitter
The sentiment on both arguments carried over to Twitter. One user noted that Roseberry's design was harmless due to many initially believing the lion head was real.
This user's thoughts echoed those on Instagram, where they seemingly couldn't make sense of Kylie's dress.
Meanwhile, some stayed in the grey area with their thoughts and shared what Kylie's 'fit reminded them of. For example, one user noted the way the lion sculpture perched her shoulder was similar to Michael Scott's Halloween costume from The Office.
This user took it one step further, adding in James Earl Jones' character from Coming To America — King Jaffe Joffer — bared a similar look.
It's clear Kylie's faux-headed lion couture left a mixed impression on the internet.