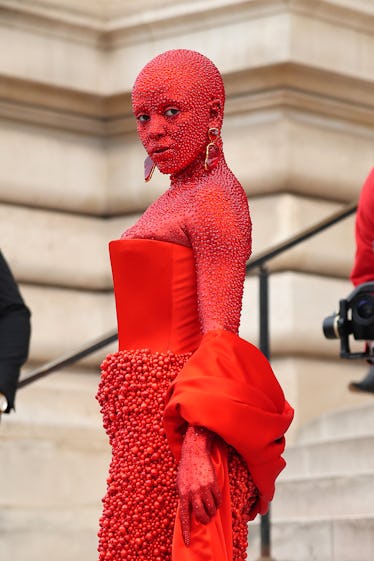 Doja Cat's Most Dramatic Look Ever Was Made Of 30,000 Crystals
Jacopo Raule/Getty Images Entertainment/Getty Images
Doja Cat always pushes the envelope when it comes to fashion. On Jan. 23, she did it again at the Schiaparelli Haute Couture Spring/Summer 2023 show. The "Vegas" rapper made heads turn by showing up to the event covered in red body paint along with 30,000 ruby crystals all over her body. She added to the fiery look by opting for a red dress and beaded skirt with matching knee-high boots.
Makeup artist Pat McGrath and designer Daniel Roseberry were responsible for creating Doja Cat's jaw-dropping look, which was inspired by Dante Alighieri's Inferno. Get this: It took five hours to bring their vision to life because each crystal was delicately placed on Doja's body by hand.
"Collaborating with the incomparably talented Doja Cat and Daniel Roseberry was an absolute pleasure," McGrath told Vogue. "Her patience and dedication as she sat with Team Pat McGrath and I for four hours and 58 minutes to achieve the creation, covered in over 30,000 hand-applied Swarovski crystals, was truly inspiring."
The duo's attention to detail didn't go unnoticed as Doja went viral on Twitter for once again making a fashion statement. "Doja Cat fully committed to her Schiaparelli look, she looks like a piece of art!" one person tweeted, alongside a video of Doja at the Schiaparelli show.
"this is FASHION, this is ART, this is DOJA CAT," another person wrote, alongside a slow-motion video of Doja arriving at the event.
Doja is known for her bold looks. During Paris Fashion Week in October 2020, she also made headlines when she arrived at A.W.A.K.E.'s runway show in head-to-toe gold body paint, looking like a literal sculpture.
It's only a matter of time until she cooks up her next wild look.