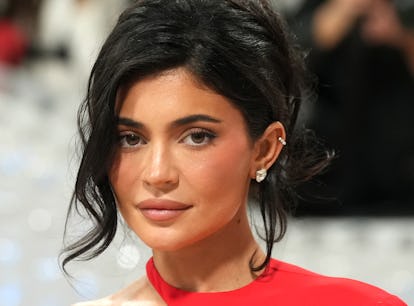 Kylie Jenner Is Now A Bratz Doll, So Step Aside Barbie
Rise and shine, Bratz girlies.
Sean Zanni/Patrick McMullan/Getty Images
Barbie has been having her moment in 2023, but now it's another doll's turn to take the spotlight. On Aug. 1, Bratz announced its first-ever celebrity collaboration, and the toy company had the perfect person in mind to get Bratz-ified: Kylie Jenner. The makeup mogul isn't just getting one figurine either — Bratz's Kylie collection features six new dolls all glammed up in some of Jenner's most iconic fashion looks. Oh, and there are also tons of new super-cute accessories to collect.
The new Bratz x Kylie Jenner collectible series is available now on Bratz's website. There are six two-inch mini dolls each styled in one of Jenner's well-known outfits, including recreations of the purple ostrich feather Versace gown she wore to the 2019 Met Gala, the crystal-encrusted Thierry Mugler look she wore to the designer's 2022 exhibition, and the attention-grabbing wedding dress she wore to the 2022 Met Gala. In true Bratz fashion, Jenner's dolls also feature some more streetwear-ready fashions, with multiple looks inspired by Jenner's love of a good LBD.
But that's just half of what makes the collection so fab. The collaboration also includes eight accessories that are super-specific to Jenner's life. There are adorable phones shaped like large lips, colorful convertibles, and the best of all: a little figurine of her dog Norman.
The figurines are mixed and matched in capsules that are being sold for $9.99 on Bratz's website, as well as on Amazon, at Target, and at Walmart. Each capsule includes one of the six Kylie figurines, and one of the eight possible accessories. That mean, you're going to have to buy a few to try to collect them all.
Jenner gushed about her longtime fandom of the Bratz dolls in the press release announcing the collaboration. "I have been a fan of Bratz since childhood and I've always wanted my own Bratz doll," Jenner said. "I have loved every step of the process this past year in creating these dolls alongside the Bratz team."
So when you're done with your Barbies, Jenner is ready for you to embrace your inner Bratz.