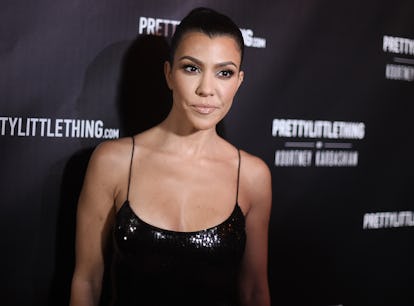 Kourtney Responded To Travis' Ex Criticizing How Much She Posts About Their Kids
"Let's do better if not for the world, for yourself, for your children."
WWD/Penske Media/Getty Images
The drama between Kourtney Kardashian and Shanna Moakler is back, but Kardashian is hoping to bring it to an end. Moakler has butted heads with Kardashian quite a few times since Kardashian married her ex-husband Travis Barker, and recently, she's taken issue with just how often Kardashian posts photos of her children. Following Moakler's comments, Kardashian responded to the shade with an Instagram note calling for "positivity and love."
The whole mess started on April 17, when fans noticed some suspicious replies in Moakler's comments section on a recent Instagram selfie. When a commenter claimed that Kardashian had begun referring to herself as a mom of six, Moakler replied: "She post[s] more of my kids [than] her own." Moakler is referring to her daughter Alabama and her son Landon, whom she shares with Barker. Both children make frequent appearances on Kardashian's social media.
Moakler doubled down on her comment when appearing on the podcast Miss Understood with Rachel Uchitel. "I wish them nothing but the best, and as long as they're good to my kids, that's all I care about, but I think the whole thing is really weird," Moakler said.
A couple days later, Kardashian shared a message that felt targeted at Moakler. Under some Bible verses, Kardashian called for positivity: "So much criticism and hate and negativity lately. Let's do better if not for the world, for yourself, for your children, for your friends and family. I promise the negativity and hate will not make you feel happier."
While Moakler may question Kardashian's approach as a stepmom, her daughter Alabama made her feelings known in a birthday tribute to Kardashian on April 18.
"You['re] the best step mom I could ask for," Alabama wrote. "You are so caring and generous for others, you are such a family person and such a hard working mom, even if you don't feel good or had a hard day you always put your family first, you have such a beautiful aura I wouldn't want another step mom."
It sounds like the Kardashian-Barker family's social media habits aren't going to be changing anytime soon.