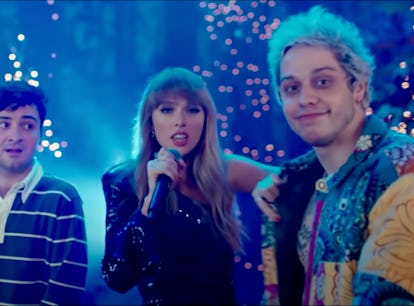 Taylor And Pete Collabed On SNL, So Of Course Everyone's Wondering About Kim K
I need to know what Kim is thinking right now.
NBC
In a matter of a month, Pete Davidson has found himself collaborating on Saturday Night Live with two very important women in pop culture: Kim Kardashian and Taylor Swift. Since Kardashian's Oct. 9 host appearance, there have been a slew of dating rumors about Davidson and Kardashian, as they've been spotted together on several outings since. So all eyes were on Davidson during the Nov. 13 episode of SNL, since Swift was the musical guest and she has a very well-known history with Kardashian. Yes, Swift and Davidson did appear in a sketch together, singing a silly song called "Three Sad Virgins" that poked fun at the show's writers, and after it aired, everyone began wondering what Kim Kardashian's reaction to Taylor Swift and Pete Davidson's SNL collab might be.
As a refresher, Swift has had beef with Kim K's ex-husband Kanye West since that infamous 2009 MTV Video Music Awards where West interrupted Swift's acceptance speech for Best Female Video. The feud was said to have been squashed, but was later reignited in 2016 when Kardashian leaked a taped phone call between Swift and West on Snapchat regarding West's song "Famous" and its controversial lyric mentioning Swift. The feud became a major inspiration for Swift's explosive 2017 album Reputation.
Earlier this year, Kardashian posted an Instagram Story of herself enjoying Netflix's Bridgerton with Swift's song "Wildest Dreams" playing in the background. The video seemed to suggest the beef between Kardashian and Swift was over, but nobody is sure about that just yet. That's why viewers still can't help but wonder what Kardashian felt about Swift's collab with her rumored BF, Davidson.
Both Swift and Kardashian have not made their thoughts public of where they stand with one another. But, Kardashian has explained she is over the feud in a 2019 interview with Andy Cohen.
Since then, fans have speculated that the two powerful women could work out their differences. And given Kardashian's most recent plug of Swift's song in her IG Story, and her new (potential) relationship with Davidson, let's hope the two are in a better headspace to support each other like the true bosses they are.