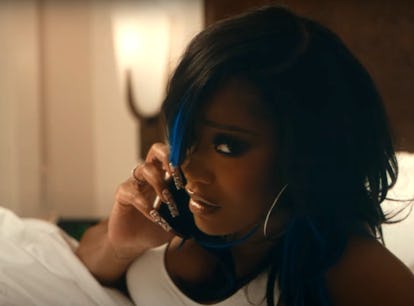 Keke Released A Whole Song With Usher To Shade Her Boyfriend
This is the ultimate clapback.
In case you had any doubts that Keke Palmer is the clapback queen, she's proving it right now. A month after her boyfriend Darius Jackson publicly criticized the outfit she wore to an Usher concert, Palmer linked up with Usher himself for a new song with a very shady title, "Boyfriend." Before pressing play on the diss track of the year, here's the whole backstory behind the Keke Palmer boyfriend drama that inspired the song.
Back in early July, the whole internet was side-eyeing Palmer's man when he reposted a photo of his girlfriend wearing a sheer dress while getting serenaded by Usher at his Las Vegas show. "It's the outfit tho.. you a mom," Jackson tweeted. Palmer gave birth to her and Jackson's first child, a son named Leo, at the beginning of 2023. As Palmer's fans attacked Jackson for his mom-shaming remark, he dug his heels in deeper with more tweets defending his position. "We live in a generation where a man of the family doesn't want the wife & mother to his kids to showcase booty cheeks to please others & he gets told how much of a hater he is," Jackson wrote, before temporarily deactivating his account. "This is my family & my representation. I have standards & morals to what I believe. I rest my case."
Palmer never directly responded to the drama, although she did release a new line of merch featuring the words "I'm A Motha" a few days after the tweets that fans interpreted as some pointed shade. And now, the shade is reaching its final form. Palmer is the star of Usher's new music video "Boyfriend," a move that is very clearly targeting Jackson's Twitter rant.
The chorus is clearly a callout, as Usher croons about a jealous boyfriend:
Somebody said that your boyfriend is looking for me. / Oh, that's cool. That's cool. / He should know I'm pretty easy to find. / Just look for me wherever he sees you."
But the ultimate diss comes at the end of the video, as Palmer wakes up in her hotel room and realizes she missed a concert. "Dammit, I missed the show. And I'm so tired. I am a mother, after all," Palmer says, giving the camera a big wink after that last line. Check out the video for youself below.
Leave it to Keke Palmer to turn petty drama into a total bop.