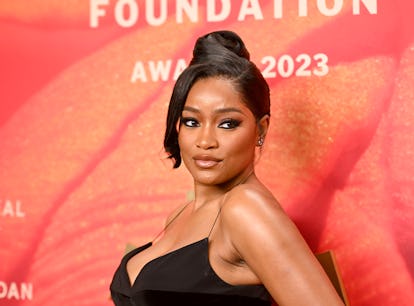 Keke Palmer's Love-Hate Relationship With High School Musical Is Hilariously Honest
Vanessa Hudgens even chimed in.
Noam Galai/Getty Images Entertainment/Getty Images
Keke Palmer wasn't learning the "We're All in This Together" choreo with the rest of us back in 2006. The Disney Channel alum recently opened up about which original movies from the network never really gelled with her, and it prompted a hilarious rant about her distaste for High School Musical. Except, after going in on the beloved throwback for over a minute, she started to change her tune a bit. Leave it to Keke Palmer to deliver the most relatable take on High School Musical, which you'll love whether you're a superfan of the movie or you can't stand it.
Palmer posted her hot take on June 15, sharing a video snippet from her podcast Baby, This Is Keke Palmer in which she went off about why she was never a fan of High School Musical.
"What's the Disney Channel movie that you saw that everybody loved, that you just could never get into? For me, it was High School Musical. Yuck!" Palmer exclaimed. "No offense, because I have so many friends from that cast. First of all, I'm very topsy-turvy with musicals. I like musicals, but it's got to surprise me that it's a musical." Palmer went on to explain she doesn't like when dialogue suddenly turns into song, as often happens in HSM.
"I'm very weird with musicals. It's so strange. It has to hit me at the right time, the right vibe," Palmer said, before remembering that she actually was into some of the soundtrack. "But I liked some of the songs. Some of the songs in that first one, when they had Drew Seeley singing the songs. Because that was the gag! For years, people thought it was Zac Efron singing on that first High School Musical. They done edited him in a voice; a blue-eyed brother with some soul, honey. Drew Seeley was eating those songs up!"
As Palmer stated, actor and singer Drew Seeley auditioned for the role of Troy Bolton, and when the part was given to Efron, he stayed on to record the bulk of Troy's vocals for the first movie. In the subsequent two films, Efron took over to sing all Troy's parts.
After Palmer burst into the first movie's climactic anthem "Breaking Free," she came to the conclusion that she was more of a fan than she'd realized. "Maybe I did like High School Musical," she admitted.
The rollercoaster ride of a video didn't offend her HSM peers — in fact, a lot of them loved Palmer's rant. "Lol I love u," Vanessa Hudgens commented. "Lol, love how you always keep it real," Monique Coleman wrote under the video. And Palmer's fave HSM star also appreciated the love: "Aw love me some Keke. Thx for the shout out," Seeley commented.