Lavender Haze (Katy's Version)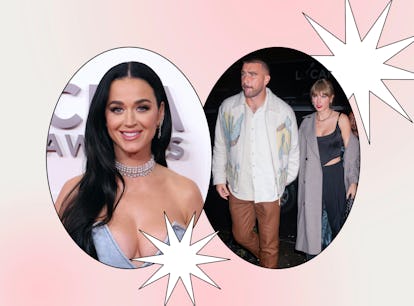 Even Katy Perry Is Shipping Taylor Swift & Travis Kelce
The bad blood is all gone now.
Taylor Hill/FilmMagic/Getty Images/Gotham/GC Images
Welcome to Travis Kelce and Taylor Swift's lavender haze. The now-official duo's relationship has been on everyone's radar, spiraling into a phenomenon where many Swifties are becoming football fans and manifesting their own NFL beaus. In other words: Traylor's not just the buzziest new relationship, but also a lifestyle. While some fans have been riding their love train hard (hi, NFL), others such as Katy Perry have kept their praises short and sweet.
On Oct. 14, after a month of speculation, Kelce and Swift hard launched their romance in a big way. The two made separate surprise appearances on Saturday Night Live's Season 49 premiere, where Swift introduced her newest bestie, Ice Spice, as the show's musical guest and Kelce appeared in a NFL sketch. Afterward, the couple were then "seen kissing" at SNL's after party at Catch Steak, per People. The following day, the duo had a dinner date at Nobu and were spotted holding hands leaving the restaurant.
These back-to-back dates sent fans into a love-craze, including Katy Perry. In the comments section of Vogue's Instagram post of Swift and Kelce holding hands, Perry wrote: "I ship." The singer's message was met with a wave of surprised reactions, especially since she and Swift haven't publicly spoke of one another since rekindling their friendship in 2019.
One fan wrote: "It's nice to see a positive response!" while another added that Perry's "so real" for giving the couple's relationship her stamp of approval. A third fan hilariously quoted Nicki Minaj's "Ariana, what are you doing here?" meme, alluding that Perry's response was quite the unexpected cherry-on-top to Swift and Kelce's PDA-filled weekend.
It's sweet to see Perry cheering Swift on from the sidelines, as the two singers once had an infamous feud. The stars, who first met in 2009, were seemingly close until 2012's backup dancer drama. That year, Perry was on her California Dreams Tour when three of her dancers were offered spots on Swift's Red tour, which kicked off that following year. According to Rolling Stone, the same trio of dancers then left Swift's Red trek to join Perry on her Prismatic Tour in 2014.
This back-and-forth opened a pandora's box of pop drama. Swift went on to release 2014's "Bad Blood," which many believed was a swipe at Perry. A few months after its release, the Midnights singer confirmed to Rolling Stone that the track was written about "another female artist," but never revealed who. Nearly three years later, Perry conjured up her own alleged diss track to Swift with "Swish Swish."
After a few more digs at one another, the pop singers' drama seemed to take a neutral turn in 2018. Between that year and 2019, Swift gifted Perry an olive branch and homemade cookies (yes, she's a baker) with "Peace At Last" written on the plate. The two officially "calmed" their years-long feud by hugging it out in Swift's "You Need To Calm Down" music video.
Here's to more moments of Perry singing her Traylor praises.