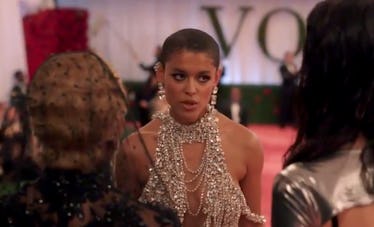 There's A ~Bejeweled~ Taylor Swift Easter Egg In Gossip Girl's Finale
Real Swifties caught it right away.
HBO Max
Much like its celeb-obsessed predecessor, HBO Max's Gossip Girl reboot is packed with sly pop culture references from beginning to end. And after the show's sudden cancellation, it turns out the honor of being Gossip Girl's final celebrity shoutout went to none other than one of the world's most gossiped-about stars, Ms. Taylor Swift. No, everyone's favorite "Anti-Hero" wasn't mentioned by name, but Julien's dress in the Gossip Girl finale was the perfect Taylor Swift Easter egg for those in the know.
Fittingly, the final episode of HBO Max's Gossip Girl reboot took place at the most Gossip Girl event possible: the Met Gala. With the teens' usual lunch spot transformed into the most fashionable red carpet, like, ever, the whole GG cast left fans with one final ensemble of gag-worthy looks to remember them by.
But of course, the show's queen bee, Julien Calloway, stole the spotlight in a dress many viewers found very familiar. Julien strutted into the gala in a sparkly Oscar de la Renta minidress made of crystalline chains, giving the illusion that she was dripping in diamonds. Paired with a matching necklace and earrings, the look was the perfect picture of show-stopping opulence and glamor.
But it wasn't the first time people had seen this dress. Swifties immediately clocked that the very same dress Julien wore is the garment Swift rocked months earlier on the 2022 MTV Video Music Awards red carpet. The look is actually a pretty big deal for Swifties, since many took it as a hint that Swift was planning to re-release her 2017 album Reputation, given its allusions to her "Look What You Made Me Do" music video. (Instead, Swift had everyone staying up until midnight for her to announce a brand-new album, "Midnights.")
Sadly, though, this was the last Gossip Girl look fashion lovers will be graced with, since the show isn't returning for a third season. At least it went out with a bejewled bang.