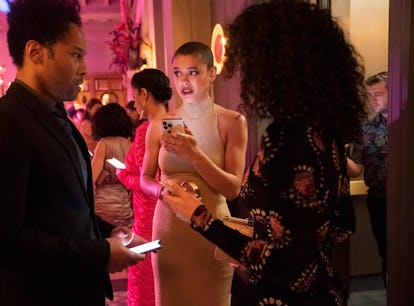 The Gossip Girl Reboot Is Canceled After 2 Seasons
Barbara Nitke/HBO Max
From the moment it landed on HBO Max, no one thought the rebooted version of Gossip Girl would be a one-season-and-done affair. The record-breaking streaming stats backed this idea up, and the series landed a Season 2 renewal after only the first half of its Season 1 run. However, HBO Max hasn't been so generous in handing out more episodes this time around, and sadly, the Gossip Girl reboot will not be renewed for Season 3.
The first season of Gossip Girl was designed to be released in two parts over 2021, with single episodes released weekly over the summer for the first six installments, before the back half arrived over Thanksgiving and Hanukkah, with three episodes released over two weeks. The bifurcated nature of Season 1 of the Gossip Girl reboot gave HBO Max a long runway to renew the show. Although the show's debut was record-breaking, the powers that be at the streaming service were still conservative, waiting until the first half was over before confirming it would get a second season.
The show's second season sang a different tune. Season 2 premiered in December 2022, with two episodes to start and then one a week following in a straight run of all 10 episodes over nine weeks. And with only one episode left in the season, the series was officially announced as canceled on Jan. 19, 2023.
Gossip Girl is hardly the first show HBO Max has canceled in the last few months, with outlets reporting on upheaval behind the scenes at Warner Media as the company merges with Discovery Communications.
In a statement released alongside the cancelation announcement, HBO Max expressed gratitude toward showrunner and executive producer Joshua Safran and executive producers Stephanie Savage and Josh Schwartz for bringing back Constance Billard for a new generation. "Although we are not moving forward with a third season of Gossip Girl, we thank them for the enticing love triangles, calculated backstabbing, and impeccable fashion this series brought to a new audience," the statement read.
The cancelation came as a surprise to fans, for whom the series had been doing the most in Season 2, including the return of Michelle Trachtenberg from the original series as Georgina Sparks, suggesting further seasons could see the return of other fan-favorites. Unfortunately, those hopes have been dashed unless some other production studio decides to come along and save the series.
All episodes of the original Gossip Girl and Gossip Girl Season 1 are streaming on HBO Max. Gossip Girl Season 2 continues with new episodes streaming every Thursday on HBO Max. The series finale will stream on Thursday, January 26, 2023.
This article was originally published on