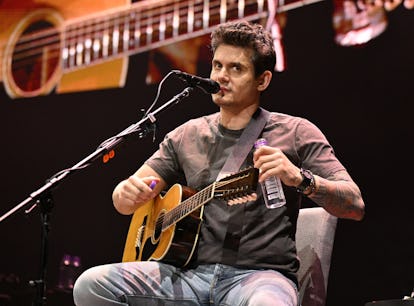 John Mayer Has Second Thoughts On His Track Rumored To Be About Taylor Swift
"Is there something about it that's a little b*tchy?"
Paras Griffin/Getty Images Entertainment/Getty Images
Like many musicians, John Mayer has written about past relationships in his music. Some of these tunes have become classics ("Your Body Is A Wonderland"), while others carried a certain tone that didn't connect with his fans. Or in this case, another set of fans. On Mayer's latest solo tour, he performed his 2013 track "Paper Doll," which is rumored to be about Taylor Swift. This speculation has followed the single for a decade, and it seems Mayer has some regrets about it.
On Apr. 9, TikTok user @covidcovers shared a video of Mayer reflecting on the song's reputation at a show in California. "I wonder if people don't like it because it sounds a little pissed off," Mayer said on stage, strumming the opening melody of "Paper Doll" on his guitar. "I don't like 'pissed off' as a song."
Mayer added the track came from a place of hurt, and those emotions rubbed off on the lyrics. "Is there something about it that's a little b*tchy? I try not to give b*tchiness in the song, and that happens sometimes. I guess I don't do it very well, sarcastic b*tchy, but I didn't really see it. I guess it is a little bit like, meh," he said with a faint smirk, before performing the song.
As the TikTok circulated online, many Swifties didn't appreciate Mayer shedding light on the breakup ballad. Specifically, fans noticed he performed "Paper Doll" the night the internet learned of Swift's reported breakup with longtime boyfriend, Joe Alwyn.
Mayer and Swift reportedly dated for a few months between December 2009 and early 2010, when she was 19 and he was 32. Swift allegedly addressed their breakup in her Speak Now ballad "Dear John," which sees her regretting being part of the short-lived romance at such a young age. In 2012, Mayer told Rolling Stone he thought the track was a cheap attempt to humiliate him.
"It made me feel terrible. Because I didn't deserve it. I'm pretty good at taking accountability now, and I never did anything to deserve that," he said at the time, adding that he wasn't pleased with Swift's songwriting. "I know she's the biggest thing in the world, and I'm not trying to sink anybody's ship, but I think it's abusing your talent to rub your hands together and go, 'Wait till he gets a load of this!' That's bullsh*t."
Nearly a year later, Mayer released "Paper Doll." Beginning with plucky strings, the singer seemingly implies that Swift wasn't consistent in the relationship by referencing her hit "22." He croons, "You're like twenty-two girls in one / And none of them know what they're running from / Was it just too far to fall / For a little paper doll."
Even with this alleged reference and other lyrical similarities to "Dear John," Mayer has insisted that Swift wasn't the inspiration behind the track. Nearly six years after its release, the singer stood firm on his stance during his Instagram Live show Current Mood in 2019. At the time, he stated that the Swift speculation watered down the track's actual meaning, which he never elaborated on.
"The song is not about that person. And I could never tell anybody that's not true, because then I would be breaking my rule that songwriters don't say who the songs are about or not about," he said. "So I had to burn 'Paper Doll' to save the integrity of being a singer-songwriter."