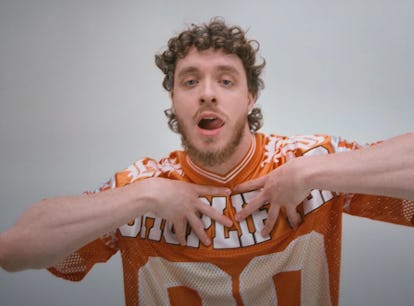 Jack Harlow Is Getting Kinky In BDSM-Inspired Single "Lovin On Me"
Try to listen to this without blushing.
Jack Harlow is ushering in his spiciest era yet. On Nov. 10, the rapper dropped his new track, "Lovin On Me," which will likely serve as the lead single from an upcoming fourth album. And you only have to listen to a few seconds to realize the lyrics are Harlow at his filthiest, dropping bars about BDSM, choking, and kink.
The song's chorus is a cheeky wink to bondage, sampling the lyrics of Cadillac Dale's 1995 funk track "Whatever (Bass Solique)."
I don't like no whips and chains, and you can't tie me down / But you can whip your lovin' on me, baby
Harlow expands on the theme with his own lyrics, describing himself as "vanilla," the BDSM term for someone who prefers to be less kinky in the bedroom. This is emphasized in his next lyric: "I'll choke you, but I ain't no killer, baby." It sounds like Harlow is down with some casual kinkiness, but doesn't want to take things too far.
Harlow's vanilla preferences are highlighted again in the second verse, as he reminds listeners of his "Missionary Jack" nickname by spelling it out. Harlow has had the nickname for years, admitting in past Instagram Lives that his friends would call him Missionary Jack because it was so well-known that it's his favorite sex position.
"Lovin On Me" is Harlow's first new release since his third album, Jackman, dropped in April 2023. He has yet to confirm if the track is a standalone, non-album single or if it will be the lead single of an upcoming project.
Harlow hasn't officially announced plans for a fourth studio album, but given his consistent release schedule, it wouldn't be out of the question to assume one is coming pretty soon. He dropped Jackman just one year after putting out his sophomore album, Come Home the Kids Miss You, in 2022. He may be ramping up to release his next LP sometime in 2024.
But for now, fans have a brand new Harlow track to dance to, and it's honestly one of his catchiest songs ever.