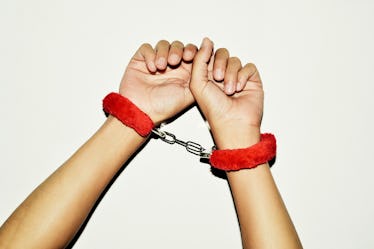 A Sex Expert Reveals What BDSM Is & How 'Fifty Shades' Gets It All Wrong
When most of us hear the letters "BDSM," we think of Rihanna singing about whips and chains or Fifty Shades' Christian Grey saying "Laters, baby," right? And while it's no secret that the BDSM community is, er, not all that fond of the Fifty Shades franchise, there's no denying that the series has put the kink in the spotlight. But what is BDSM, really?
BDSM is an acronym that represents three categories: bondage and discipline, dominance and submission, and sadism and masochism. The practice is a sexual exchange of power between consenting participants. If you're into BDSM, sex isn't just a satisfying physical activity or a way to feel closer to your partner — it's also a psychological thrill.
This type of kinky sex can be intense, so clear communication is key. Partners should discuss their boundaries, turn-ons, and turn-offs. They might even pick out a safe word prior to turning up the heat.
Aftercare is also critically important, according to sex educator, instructor, and coach Lola Jean. It ensures that each partner feels appreciated and cared for after an intense sexual experience.This can look different from couple to couple, based on their wants and needs. For some, it might include cuddling; for others, it could entail a conversation about how each person felt during sex. Like most things in BDSM, one size does not fit all. Everyone's needs are different.
Below, Jean dispels three major myths about BDSM and offers suggestions for beginners looking to ease their way into this type of kink. Here's what she had to say.
1. Myth #1: BDSM Is All About Pain
This myth couldn't be farther from the truth. "When people hear BDSM, they tend to associate it with general sadism," says Jean — that is, causing harm to other people. "BDSM can, in fact, be sweet, fulfilling, and creative. What gets lost is the understanding, effort, and responsibility that comes with being a dominant or the simultaneous control and vulnerability that comes with being a submissive."
In a healthy BDSM relationship, all partners aim to please each other, and the submissive sets their own boundaries. "Physical abuse is an impact that is unwanted and nonconsensual, not just painful," Jean says. The basis of a dom-sub relationship is fulfilling your partner's needs, providing them pleasure, and constantly communicating to ensure you're doing both well. It's yet another reason why aftercare can be so critical. Not only is it imperative that all partners feel safe and cared for, but everyone must also have a deep understanding of the other's boundaries, comfort levels, and sexual interests.
"You want to communicate with your partner(s) before you bring any BDSM into the bedroom," sex expert and Booty Parlor founder Dana Myers told Bustle. "Discuss who's going to play the dominant and submissive roles, and be clear about what you're willing to try and what's simply too far outside of your comfort zone. Having this talk will strengthen your communication, build intimacy, and create a strong sense of trust so that you can let go of your inhibitions and explore some kinkier sex-play safely and comfortably in your relationship."
2. Myth #2: The Dominant Partner Is Always In Control.
It might look that way on the surface, but that's not true. "Many people assume that a dominant makes demands and orders at all times," says Jean. "Yes, this may happen once the relationship has been established and there is understanding within the dynamic. [But] there is a large element of trust that needs to be built within a relationship with a power dynamic. Even when 'forced' to do something, it should be on the submissive's own free will. There should always be an out, exit, or safe words available."
In a healthy BDSM relationship, subs will ultimately decide when the action starts and stops, and how intense the session gets. Carefully selected mechanisms, like safe words, provide the submissive with control and agency.
"A safe word is a word selected by sexual partners together that, when used, indicates one partner would like to pause sexual activity for any reason," McKenna Maness, sex educator and former education and prevention coordinator at The Santa Cruz AIDS Project (SCAP), previously told Elite Daily. "Perhaps sex got too intense, or the partner is physically uncomfortable or in more pain than they would like to be, or roleplaying crossed into something less desirable for that person, [or] they're overstimulated. In any of these cases, the partner who would like to stop can say their safe word and the other partner would know that it is time to stop immediately and check-in."
3. Myth #3: BDSM Is Nothing More Than Rough Sex Or Assault
One of the greatest challenges the BDSM community continues to face is misrepresentation in films and on television. While BDSM is largely associated with whips, chains, and leather ensembles, there are plenty of ways to ease into kink.
"I highly recommend starting with dirty talk or sexting prior to doing anything in a sexual setting," says Jean. "You may not know how you will react to a certain scenario or phrase in the heat of the moment. Better not to leave it to chance and use this time to test the waters [and] figure out your likes and dislikes."
Additionally, BDSM is about pushing your limits, not passing them. In all forms of sexual activity, your comfort, consent, and pleasure are crucial. "What are the goals for each of you in this BDSM relationship? Is it habitual? Are you both aware of each other's boundaries and intentions? Have you communicated your needs before and after play or scenes?" advises Jean. "There are many aspects to consider before you dive headfirst into a power dynamic relationship. The control, or lack of control, can be intoxicating, but it comes with responsibility."
As always, active consent is the key ingredient in participating in any type of sexual activity. Before getting down to it, openly discuss boundaries and intentions with your partner(s). "All BDSM is based on this very important concept of consent. Skipping the consent discussion means you risk doing significant harm to others and to themselves," erotic coach and sex educator Dawn Serra told Bustle.
Whether you're considering exploring kink, dipping a toe into the world of BDSM for the first time, or have a go-to safe word, entering the arena of pain and pleasure can be both sexy and healthy. As long as all partners are on the same page, and willing and able to provide their active consent, there's nothing wrong with experimenting as a sub or a dom.
Additional reporting by Iman Hariri-Kia.
This article was originally published on