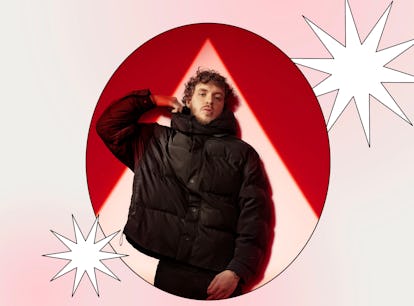 Jack Harlow Knows What You Think Of Him
"There's a lot of fun in appearing to know less than you know."
Doritos
They say never meet your heroes, but Jack Harlow has yet to meet an icon who didn't live up to the hype. At the 2023 Grammys last Sunday, where he was nominated in three categories, he chatted with Rev. Run and Beyoncé. "I walked away feeling totally empowered," Harlow tells Elite Daily via Zoom. It's the same feeling he had after meeting Missy Elliott, an artist whose music has influenced him greatly. The rap duo star in a Doritos Super Bowl LVII commercial, and on set, the "Work It" virtuoso imparted career advice he'll never forget.
"[When she first released music], she wasn't thinking about how to make the masses like it, or trick people into calling her records a hit," the 24-year-old says. His camera is off, but his characteristic drawl is pleasantly prominent. "She was just making the music she liked. It was another reminder of how music is best made organically, and to hear it from her was really affirming." She also shared personal stories about one of his hometown heroes: the late, great Static Major.
Harlow grew up on Missy's music. As a kid in Louisville, Kentucky, he became interested in hip-hop at an early age. He remembers being particularly obsessed with "Gossip Folks," a retro single off her seminal 2002 album Under Construction, which delivered hits like "Back in the Day" and "Funky Fresh Dressed." "Missy's whole sound influenced me so much," he says. You can hear it in the music he makes now. So working on this project was an easy decision. "As soon as I heard that Missy could be involved, I said, 'Please make that a reality.'"
The ad gives fans a taste of what makes the "First Class" rapper such a compelling performer. He's charming and possesses a real knack for humor. Standing at 6-foot-3, he carries actual presence. Whether he's snacking on Doritos (don't sleep on the Sweet & Tangy BBQ, he says) or hosting Saturday Night Live, he pulls you in. This year, he'll make his feature film debut in Hulu's upcoming remake of White Men Can't Jump, starring in the titular role.
"I'll say I have a lot to learn, and I want to improve my craft, but there is something that feels natural for me being on set and trying it," he says of taking on more acting projects. "I've liked pretending my whole life. I've liked falling into characters and not being married to the things I'm saying, just joking around [and] being silly. So it feels good. It feels right for me. It's a path I want to keep walking down."
His foray into acting has also influenced his music. On the technical side, his projection has improved. On a deeper level, it's helped him identify the kind of artist he wants to be in the future. "Part of me wants to try out new characters in my music," he says.
You might know Harlow for his breakout hit "WHATS POPPIN," or for his Grammy-nominated collab with Lil Nas X, "Industry Baby"; or maybe you know him for his red carpet flirting. In just three years, Harlow has turned his virality into actual stardom, and that has a lot to do with his likability. He's best at being himself — charismatic, cheeky, and unnervingly subtle about it. He knows it, too. "I've grown very accustomed to just being Jack Harlow and having a default tone of voice or energy on records. But I think trying out a new medium has made me want to expand my range a little bit and get outside of myself."
That's not to say that the art of celebrity isn't already about adopting personas. You have your Bowies and Gagas, chameleonic artists who shed characters like second skins; and then there are talents like Taylor Swift and Paris Hilton, who play up certain parts of themselves because they know who they have to be when the cameras are rolling. Harlow is very aware of how he's perceived. "I think there's a lot of fun in appearing to know less than you know," he adds. "Just to see how people treat you."
At the heart of both his music and acting is conviction, he says. He wants to step outside of his comfort zone and try new things. "It's good to take note of what makes me nervous and try to conquer it," he explains. "Failure in general is a fear of mine. You go to the studio and you create stakes [in your mind] around the music you're about to make, and you create stakes as an actor about performing well." Now, he's adopting a different mindset. It's the failure to try that scares him the most these days.
"I feel blessed, and I know it's precious, so I got to work for it."