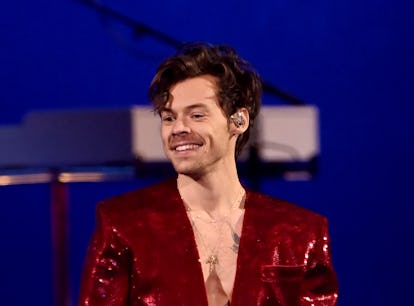 Harry Styles Fans Are Going Wilde After Noticing His "Olivia" Tattoo
The darlings are worried.
Dave J Hogan/Getty Images Entertainment/Getty Images
Harry Styles is no stranger to the tattoo parlor, but his latest piece of ink has really caused a stir among fans. Actually, it probably isn't even a recent addition to his body, but the tat had never been seen before very recently due to its intimate location. However, while the singer was rocking a pair of short shorts on a boat in Italy, it was clear he had gotten the word "Olivia" tattooed on his upper thigh, seemingly as a tribute to his ex-girlfriend Olivia Wilde. The new discovery caused a lot of commotion online, given how chaotic that relationship was, and the reactions are pretty hilarious.
It wasn't until photos of Styles' vacay in Bolsena, Italy surfaced on Friday, July 28 that fans noticed a previously unseen tattoo on Syles' right thigh. Superfans zoomed in on the ink, and confirmed it did indeed read "Olivia." Though that name has been important throughout Styles' career, going back to his One Direction days when he recorded a song called "Olivia," it seems most likely that he got the tat while he was still dating his ex Olivia Wilde.
Styles and Wilde were first romantically linked at the beginning of 2021, while they were making their movie Don't Worry Darling together. The relationship became infamous for its messiness, as Wilde was still dealing with her separation from Jason Sudeikis and the coupling sparked a deluge of rumors about behind-the-scenes drama on the Don't Worry Darling set. By the end of 2022, Styles and Wilde broke up, but now it appears that Styles has a constant reminder of his ex permanently stamped onto his body.
It's unclear how long Styles has had the "Olivia" tattoo, but it feels like a safe assumption he got it sometime between 2020 and 2022 when he was dating Wilde, and nobody noticed it until months after their breakup. Once the ink went viral, fans had a field day imagining how Styles must feel about having his ex's name tattooed on his leg.
Now the question is: Has Wilde been hiding a "Harry" tattoo all this time, too? Darlings, it might be time to start worrying again.