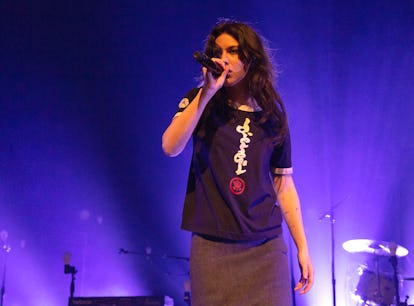 Here's Why Gracie Abrams' Eras Tour Set List Is Causing A Stir Among Swifties
It's not really what fans were expecting.
Andrew Chin/Getty Images Entertainment/Getty Images
You may have bought your Eras Tour tickets to see Taylor Swift, but you'd be seriously missing out if you didn't show up for the tour's opening acts. Not only are each of the nine artists kicking off the show buzzy hitmakers (and some of Swift's own personal favorite performers), but because the pairings rotate with each new show, every concert date get its own personalized lineup. Gracie Abrams is one of the main reasons to get to the Eras Tour early, because her set list fits in with the show perfectly. Although, some fans do have a small issue with the length of her time on stage.
Abrams joined the Eras Tour in spectacular fashion during the April 1 show in Arlington, Texas. Not only did Swift introduce her as "one of [her] favorite artists," the headliner also dedicated a very special surprise song to her: "Clean." "I swear on my life I had no idea she was going to do that, so you can imagine my shock," Abrams told the crowd at one of her own shows after that night. "I screamed in such a way for the first half [of the song], and then Casey, who's in our band and also is newly my vocal coach, she was like, 'You can't f*cking do that, you're going to lose your voice. Like, don't be a psycho.'"
Abrams will be one of the openers for a large bulk of the Eras Tour, including almost every concert throughout the summer, up to the second-to-last show date on Aug. 8 in Los Angeles, California. Chances are, if you're attending an upcoming Eras Tour show, you'll probably be seeing Abrams perform. Surprisingly, her set list only consists of four songs, but at least they are some of her top singles, including her latest release "I Know It Won't Work," as well as a throwback to her career beginnings with "21." Here's the full set list:
"Where Do We Go Now?"
"21"
"Block Me Out"
"I Know It Won't Work"
There are a few reasons Abrams' set list might be noticeably shorter than other openers. For one thing, she's predicted to be the first opener at all her Eras Tour shows, a slot that's typically shorter to leave a bit more room for the second opener. Additionally, Abrams is also on her own Good Riddance Tour at the same time as the Eras Tour, so she might want to save her full set for her own shows. Still, fans were understandably bummed to learn Abrams' set list was so short.
Although it's upsetting that Abrams isn't on stage very long, her brief set list could also be a way to account for the concert's already overwhelming length. After the two openers, Swift's mammoth 44-song set list runs over three hours long.
Abrams' set may be short, but it's still an opening act fans definitely shouldn't miss.