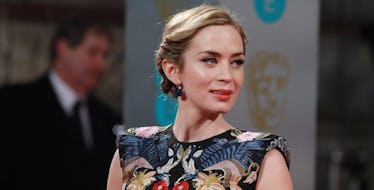 First Pic Of Emily Blunt As Mary Poppins Is Here And It's Practically Perfect
REX
ATTENTION, INTERNET. MARY POPPINS IS BACK.
And she's taking the form of Emily Blunt in the first-ever photo released from the highly anticipated "Mary Poppins Returns."
Set to release in 2018, "Mary Poppins Returns" will star Emily Blunt in the title role, filling the shoes of Queen Julie Andrews, and Lin-Manuel Miranda as Jack, aka the new Bert.
Here's the first pic we've been gifted with:
The picture was released late afternoon on March 3. She's practically perfect in every way, people!!!! (LOL, get it? "Mary Poppins" humor. OK, bye.)
Disney has been on a roll over the last couple of years with their live-action remakes, with movies like the soon-to-be box office smash "Beauty And The Beast," and the unforgettable "Cinderella" and "The Jungle Book."
While "Mary Poppins Returns" is a sequel to the 1964 Oscar-winning classic and not a remake, people are just as excited for it as they are for "Beauty And The Beast."
What's even more exciting about "Mary Poppins Returns" is its star-studded cast.
This picture, although not released with the picture of Emily Blunt as the titular character, appears to show Lin-Manuel Miranda as Jack.
It's, like, really safe to assume this is Miranda's Jack. He's lighting a streetlamp, and Entertainment Weekly reports Jack is a "musical lamplighter." And there's an English flag in the background. This is just obviously from the movie, OK?
Entertainment Weekly also reports Meryl Streep is going to be in the new "Mary Poppins" too. MERYL STREEP!!!!
Other cast members include Colin Firth, Julie Walters (aka Mrs. Weasley from the "Harry Potter" series) and Dick Van Dyke (aka the OG Bert), who will be making a featured appearance that won't necessarily be Bert.
Meryl Streep will apparently be playing Mary Poppins' cousin named Topsy, and I literally can't keep my shit together just thinking about these two majestic creatures of light being in a movie together again.
Seriously, between "The Devil Wears Prada," "Into The Woods" and "Mary Poppins Returns," Emily Blunt and Meryl Streep are basically the new Emma Stone and Ryan Gosling, except 17 billion times more likely to save the world from imminent doom just for existing.
Throw Lin-Manuel Miranda into the mix and I am just about losing my mind.
Goodnight, world. I'll be in a deep slumber until "Mary Poppins Returns" comes out on Christmas Day, 2018.
I'm already sick of 2017, and the only thing that's going to make me feel better is a lot of sleep paired with Emily Blunt, Meryl Streep and Lin-Manuel Miranda singing Disney show tunes straight into my goddamn face.
Citations: Mary Poppins Returns first look: See Emily Blunt in costume! (Entertainment Weekly)