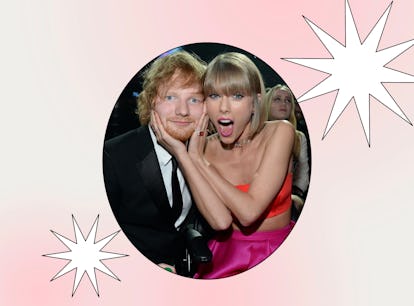 Ed Sheeran Says His Phone Calls With Taylor Swift Are Basically Therapy
"She's one of the only people that actually truly understands where I'm at."
Kevin Mazur/WireImage/Getty Images
Ed Sheeran has been thinking out loud lately. Since the beginning of last year, the singer has been navigating through tough times in his personal life. From mourning the death of his close friend, Jamal Edwards, to handling his wife's cancer scare, these gloomy moments inspired Sheeran to return to a familiar form of therapy: Music. In support of his upcoming album – (pronounced Subtract), Sheeran has been rawly honest about his mental health and how he's grateful for his family and friends, including Taylor Swift.
On May 4, Sheeran spoke with Apple Music 1's Zane Low about how Swift has been there for him. "I have long, long, long conversations with Taylor about stuff just because I feel like she's one of the only people that actually truly understands where I'm at," Sheeran said around the 33:14 minute mark of the interview.
Leading up to this revelation, Sheeran recalled an experience he had with the Midnights star when he lived in Los Angeles. According to him, he and Swift (alongside other singers Gavin DeGraw and Ellie Goulding) used to have jam nights where they created rough drafts of music by playing on a guitar. He shared how much he missed those nights, and how linking up with other music creatives becomes slim once he garnered a new level of success.
"I really miss doing that, you know? Songwriters hanging around playing tunes. You sort of get to a certain point in your career where you've had success and you're more guarded. I spend most of my time with my family now, but I miss the sporadic, 'f*ck it' nights," he said.
Now riding this new, awing height of fame, Sheeran noticed how important it was to have friends that could relate to where he's at in his career. "She's a solo artist, she's [touring in] stadiums," he said, to which Lowe added Sheeran and Swift were similar in the trajectory of how their music hits with the masses.
Sheeran then reminisced on working with Swift on her Long Pond Studio Sessions documentary in 2020. The concert film — which featured Swift performing her earthy Folklore album — allowed Sheeran to meet one of her longtime collaborators and lead singer of The Nationals, Aaron Dessner. This connection led Sheeran to work on Swift's re-recorded Red album that following year, including co-writing her track "Run."
Following their creative stint on Red, Sheeran revealed that Swift suggested he should work with Dessner more. At first, he was a bit hesitant. "I've always kept my distance if there would be a collaborator that she'd be working with closely, because that's her thing. But she said 'I think it would be really important for you as an artist to do what I did and work with Aaron'," he said, adding that Swift emphasized how much Dessner has sonically liberated her.
Sheeran took her word and worked with Dessner on his upcoming album, which is the final release of his mathematical-titled album series. In the interview, he noted how grateful he was to have listened to her input.
"I'm making the most meaningful music that I've made in a long time," he said. "I had an hour-20 conversation with [Swift] yesterday and we were just — everything that was on our minds we talked about. That in itself is kind of therapy as well, because you're actually talking to someone that genuinely gets it."