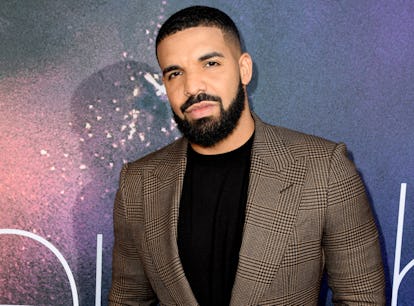 Drake Squashed His Feud With Taylor Swift In A New Song
Definitely didn't expect this.
Kevin Winter/Getty Images Entertainment
Welcome back to OVO season. It seemed Drake was ready to briefly retire his pen, as he announced he was taking a break from music last month. However, on Nov. 17, he returned with Scary Hours 3. This surprise drop sees the rapper slightly addressing the criticism that surrounded For All The Dogs, which feels on the nose considering he recorded this EP one week before its release. The 6-track release sees Drake dissing old enemies, offering some of the most promising bars in recent years, and surprisingly, praising Taylor Swift.
In the opening track, "Red Button," Drake slyly raps about being "the most decorated" emcee in the industry. He then recognizes Swift, who's been adding some impressive accolades to her career in the last few months, mid-way through the verse.
He raps:
"Taylor Swift the only n*gga that I ever rated / Only one that could make me drop the album just a little later / Rest of y'all, I treat y'all like you never made it / Leave your label devastated / Even when you pad the stats, period, I never hated."
Just as unexpected as Scary Hours 3's release, it's surprising seeing Drake honor Swift. The last time the two shared the spotlight in 2022, fans believed he threw shade at the singer.
In November of that year, eight tracks from Drake and 21 Savage's album Her Loss filled the majority of the Billboard Hot 100's top 10 songs. Meanwhile, Swift's Midnights single "Anti-Hero" snagged the No. 1 spot. Drake later celebrated Her Loss' success by posting the Billboard chart on his Instagram Stories, and noticeably blocked Swift's top position with a few emojis.
This inconsistency alarmed Swifties, who later labeled Drake as "petty" for dimming the light on Midnights. Shortly after the Billboard debacle, Drake seemingly deleted a photo of him and Swift hugging off his Instagram. Neither artist ever addressed the backlash that followed Drake's alleged shade; however, he lightly poked at the status of their friendship earlier this summer.
On July 7, the same day Swift dropped Speak Now (Taylor's Version), Drake shared a photo of him posed with Jaime Kitt Carson — who looks a lot like the pop singer — on his Stories. "Congrats on the drop sis. Dialed In," Drake wrote, jokingly nodding at the re-recorded album's release.
Swift hasn't responded to Drake's recent shoutout.