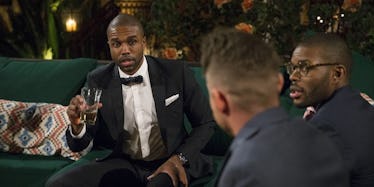 'Bachelorette' Contestants Call Out DeMario On 'Men Tell All': "Worst On The Show"
ABC
We're so close to Bachelorette Rachel Lindsay finally choosing a man to spend the rest of her life with. It's down to just Eric, Peter, and Bryan now — but before we get to the Bachelorette finale, first we have to get through some more drama on Monday's Men Tell All. And the big dramatic question on everyone's mind during that episode was: What will happen with DeMario on The Bachelorette:Men Tell All?
Though ABC tried to make it all about Kenny and Lee this season, the real drama of Bachelor Nation this summer was all about DeMario Jackson. Unsurprisingly, Men Tell All didn't bring up the alleged Bachelor in Paradise sexual misconduct between DeMario and Corinne. In fact, no one has mentioned that Bachelor in Paradise even exists at all. Right now, it seems like ABC would rather we just forgot all about that. (Although, they were happy to use the #drama of the show nearly being cancelled for the advertising campaign earlier this month.)
But there was no talk of Corinne or Bachelor in Paradise with DeMario on Men Tell All. Instead, the focus was on the Bachelorette drama DeMario stirred up. In case you don't remember, DeMario was one first men kicked off way back in May, after DeMario's alleged girlfriend came on the show, stating she was still in a relationship with him. DeMario's ex, Lexie, showed Rachel texts that seemed to prove she and DeMario were dating when he left to go on the show.
Rachel sent DeMario home pretty much immediately after that, despite DeMario begging for a second chance. But Rachel wasn't hearing it, shut him right down, and sent him packing, again. It wasn't a very dignified end for DeMario.
On Men Tell All, Chris Harrison confronted DeMario about dating two women, and DeMario insisted he had little to no relationship to this woman. He claimed she was lying when she told Rachel they'd been dating six months, pointing to the fact there were no pictures of them together. He even compared himself to Bill Clinton, referencing the former president's affair.
The other men chimed in, taking either DeMario or Rachel's side. Dean and Lucas (Whaboom) both tried to defend DeMario, saying he's already been through enough (probably a reference to his Bachelor in Paradise scandal). Jamey was firmly Team Rachel, saying of Whaboom's support for DeMario, "I think it's funny, the two, potentially with Lee, worst people on the show are combining together." Dean, though he was defending DeMario, did admit one thing about DeMario: "He's an idiot."
As for all the drama with Corinne, it's unclear at this point whether or not DeMario returned to Bachelor in Paradise after the show resumed production, though he claimed he would attend that reunion. Filming was suspended briefly to conduct an investigation into allegations that DeMario had taken advantage of Corinne Olympios while she was unable to consent. Warner Bros. reviewed footage of the event, and released a statement claiming "the tape does not support any charge of misconduct by a cast member," and that filming for Bachelor in Paradise would resume. Later, Corinne's legal team released a statement explaining she would not be returning to the show.
DeMario has already spoken at length on his side of the story in an interview with E!. Chris Harrison told Entertainment Tonight he plans to interview both DeMario and Corinne together to go over the Bachelor in Paradise incident together, but Harrison did not say when the interview will air. I guess we'll just have to wait and see!