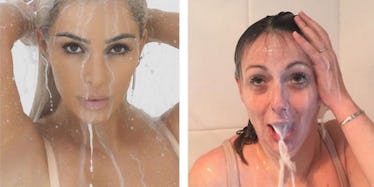 Comedian Hilariously Recreates Kim Kardashian And Chrissy Teigen's Sexy Pics
Instagram
Comedian Celeste Barber is back at it again with mock celebrity pics that are even more hilarious than her last batch of ridiculous recreations.
To be fair, the world is ripe with celebrity images to make fun of. You've got Kim Kardashian taking milk baths, Adrian Grenier jumping naked into a pool, Kanye West doing whatever he does and Tom Hiddleston acting like a fool around Taylor Swift. With so little time and so many celebrities to make fun of, Barber does an excellent job of poking fun at just about everyone.
Keep scrolling for her latest poses inspired by the celebs we love best.
TBH, her crew is way hotter.
Just having a little fun at the supermarket, no big deal.
When you're drowning but still trying to look hot...
SO MUCH YES.
Because we all love to wear child-size swimsuits.
Mmmmm nothing like a cold, lactose intolerant shower...
Instagram vs. Reality
Water aerobics can be exhausting, am I right??
OK, this one is legit art.
Pizza can be so emotional.
The best way to hide a pimple.
At the end of the day, it can be hard to be this fabulous.
Citations: Kim Kardashian & Chrissy Teigen Make It Look Easy — This Mom HIGHlariously Recreates Celebrity Moms' Famous Pics! (Perez Hilton)