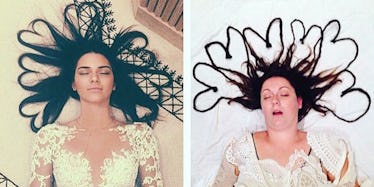 This Comedian's Recreations Of Celeb Photos Are Better Than The Originals
Last summer, we introduced you to Celeste Barber.
You know, that crazy comedian from Down Under who's always trying to recreate celebrity photos on social media?
If her clever recreation of Kim Kardashian lying in a pile of dirt made you laugh the first time around, you'll be glad to know this funny gal hasn't slowed down since then.
In fact, it appears Barber's celebrity-doppelgänger endeavors are going stronger than ever these days.
Yep, Barber recently posted a bunch of new Instagram photos for her #celestechallengeaccepted project, and this time, she's slaying everything from flawless Beyoncé poses and supermodel bikini selfies to Kim K's iconic naked mirror pic, of course.
Seriously, when it comes to poking fun at all the ridiculous things famous people post on social media, Barber's parody photos are totally on point.
Check out the pictures below to see her comical celeb-inspired photos.
When it comes to impersonating celebs, Celeste Barber totally has a leg up on the Instagram competition.
I mean, seriously, just look at this perfect reenactment of Lady Gaga's morning yoga sesh.
Kylie Jenner clearly has nothing on this perfect pout.
Barber knows how to pull off everything from Paris Hilton's bathtub pics...
Beyoncé's fierce falling poses...
And Khloé's skinny gym selfies...
To Kim K's cries for the Internet's attention...
Rosie Huntington-Whiteley's angelic underwear pics...
...and Rachel Zoe's artsy fashion editorials.
Barber is basically a master at mimicking celebrity-couple bedroom scenes.
She's always down to sit in the bathroom sink for the sake of a good selfie...
Or show the world she shaves her armpits, just like her twin Ruby Rose...
...and don't even get me started on her impersonation of Justin Bieber's shirtless pics.
If you ask me, Barber totally wore it better.
Yep, totally nailed this whole being Beyoncé thing.
Citations: Woman Hilariously Recreates Celebrity Instagram Photos (BoredPanda)