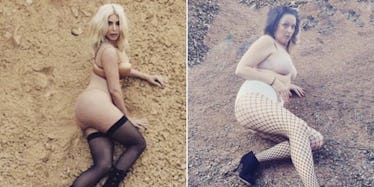 Woman Perfectly And Hilariously Recreates Celebrity Instagram Selfies
A while back, we introduced you to Hannah Gadsby, the clever Aussie chick who created a funny Instagram account featuring a bunch of Ruby Rose parody photos.
However, it turns out Gadsby isn't the only Aussie making people laugh by imitating celebrities on social media.
Celeste Barber is another Australian comedienne who recently set out to recreate a series of celeb Instagram photos for her latest project called #celestechallengeaccepted, and her photos will make you realize celebs use a lot more than the Valencia filter to look that damn perfect in their uploads.
Take a look below to see her hilarious Instagram photos.
Meet Celeste Barber.
Recently, this funny woman decided to show the world how fake famous people can be on social media...
By hilariously recreating a bunch of celebrity photos...
...and posting them on Instagram with #celestechallengeaccepted.
Her parody photos prove Instagram can look a little different when you're not one of Hollywood's hottest.
Whether she's channeling her inner Kim by lying naked in a pile of dirt...
Having a sexy midnight snack...
Waking up like this...
Catching up on her reading like Miranda Kerr...
Dressing up the fam in all-white everything...
Mastering the ocean hair flip like a model...
Or simply chilling with her dog...
...this comedienne totally nails every celeb pose and proves just how ridiculous these uploads look IRL.
Seriously, the Biebs has nothing on Celeste's "cutting edge" photos...
...and she can even pull off a Kim and Kanye kiss like a pro.
Citations: This Australian Comedian Is Re-Creating Celebrity Instagrams With Hilarious Results (TIME)