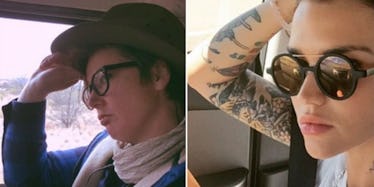 Comedian Hilariously Reenacts Every One Of Ruby Rose's Instagram Photos
Ever since Ruby Rose appeared as the new irresistible inmate, Stella Carlin, it seems like people just can't get enough of this Aussie "Orange Is the New Black" star.
In fact, I think it's pretty safe to assume that at some point, almost everyone has aspired to be her.
But when it comes to emulating this sexy cellmate, no one does it better than Hannah Gadsby.
Gadsby is an Australian comedian who recently set out to show the Internet she has what it takes to become Hollywood's next lesbian sensation by recreating a bunch of Ruby Rose's photos.
This female really knows how to channel her inner Ruby, and I have to say, all of her "#rubyroseunderstudy" pictures are hilariously spot on every time.
Seriously, it's only a matter of time before Gadsby becomes just as Insta-famous as the beautiful Ruby herself.
Meet Hannah Gadsby, the self-proclaimed "Ruby Rose understudy."
Recently, Gadsby set out to show the world she can be the next Ruby Rose by hilariously recreating a bunch of her photos and posting them on Instagram.
It's no secret these two are pretty much twins.
Whether she's playing with a pony...
Taking a sexy swim...
Or showing her adorable dog a little love...
...Gadsby perfectly nails all of Rose's smoking hot poses.
She mastered the Ruby road trip selfie.
And she's not afraid to show off some insane style just like her "OITNB" twin.
Gadsby's crew rivals Rose's squad goals.
She can even climb a fence just as gracefully as this coveted convict.
Plus, she has Ruby's signature hairstyle down to a science.
Gadsby makes Ruby's bathroom pics look even steamier...
...and just like flawless Ruby Rose, you know she woke up like this.
Both of these babes can totally pass for Bieber.
Rose and her girlfriend have nothing on this couple.
Watch out, Ruby, it's only a matter of time before this woman steals your spotlight.
Citations: LOOK Hannah Gadsbys a match for Ruby Rose on Instagram (Same Same)