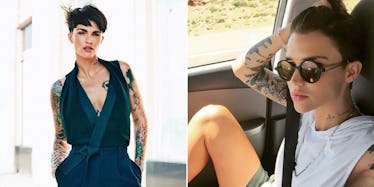 Ruby Rose From 'OITNB' Is The Most Badass And Sexy Person Alive
There's no shortage of tantalizing eye candy on the Internet.
Sometimes, it takes a little something extra to make a gorgeous gal stand out, like, say, throwing her behind bars in a bright orange jumpsuit for instance.
Former model, MTV host and DJ, Ruby Rose, has become the world's latest hot news after she appeared in season three of the hit television series, "Orange is the New Black."
Since making her debut at Litchfield Penitentiary, people just can't seem to get enough of Ruby Rose.
Now, both guys and girls alike are turning to social media to let this irresistible Aussie inmate know she's not only the baddest b*tch on the cell block, but quite possibly the hottest woman in the world.
Seriously, it should be against the law to look that damn good all the time.
Between her edgy-yet-chic style, perfect bod, sexy tattoos and gorgeous face, Ruby Rose is definitely the total package, and it's not hard to see why everyone is going batsh*t crazy over this convict.
Meet Ruby Rose.
Aside from being a multi-talented model, MTV host and DJ...
This Aussie gal is insanely f*cking hot...
And thanks to her latest role on "Orange Is The New Black"...
This badass beauty is turning a lot of heads...
And quickly becoming an international sensation on social media because of her irresistible appearance.
In fact, she looks so good, it should illegal.
I'm not entirely sure if it's her pretty face...
Effortlessly chic style...
Killer tattoo-covered body...
Or edgy, bad girl vibes.
But what I do know, is Ruby Rose is one smoking-hot babe...
And people just can't seem to get enough of this lovely lady.
Guys and girls alike are commenting on how hot and alluring this chick is.
I guess it's safe to say anyone would do terrible things for a chance to be cellmates with this bad b*tch.