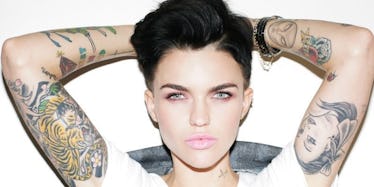 Ruby Rose's Hotness Is Apparently Turning Straight Women Into Lesbians
Since it premiered a couple of years ago, "Orange Is The New Black" has been praised for its refreshingly honest portrayal of women from all walks of life -- and considering it's a show about women in prison, the topics of gender and sexuality tend to pop up fairly frequently.
From examining the under-explored emotional side of a lesbian relationship to Boo unashamedly attempting to seduce every single inmate in Litchfield (regardless of each's personal preference), the show is never shy about its progressiveness.
The third season is no exception.
I attempted to show Netflix who's really boss by going outside this weekend, so I haven't had the chance to meet Stella, the character portrayed by Australian renaissance woman Ruby Rose:
It's unconfirmed as to weather I speak ever on the show "@oitnb_tv: @RubyRose you do like your staring. pic.twitter.com/aiSeXC374X" — Ruby Rose (@RubyRose) May 30, 2015
Over the course of the first couple seasons, Piper spent a fair amount of time trying to figure out her sexuality, and it would appear that Rose's aesthetic is making some of the show's viewers do the same (she came out as a lesbian, but doesn't identify with a gender).
I went to the hyperbolic part of the Internet to look at some of the responses to her role, and it would appear a lot of self-professed straight women would be willing to make an exception.
I'm not sure this is how most people "decide" to be gay, but what do I know?
There's a reason I mostly cover videos of small children doing embarrassing things instead of gender issues.
In addition to acting and modeling, Ruby Rose apparently practices sexual magic and sorcery in her spare time.
Ruby-Rose is legit enough to turn me gay. Please dear god why did you bless someone with so much perfection?! — princess (@ChantelEllard) June 12, 2015
Im being deadly serious when i say i would turn gay for ruby rose, most beautiful human iv ever seen#sexuallyconfused #notevenjoking — Rachel Nelson (@razanelse) June 16, 2015
Um yes I'd like Ruby Rose to be my girlfriend please — Taylor Bartek (@bohaiti) June 15, 2015
oitnb is part of the gay agenda where they send ruby rose to turn all women into lesbians — adri x (@adrieeez) June 16, 2015
Ruby Rose could turn me gay any day — Katana (@KatanaWilsey) June 16, 2015
I literally have this huge crush on ruby rose I may or may not turn lesbian who the hell knows — n a y e l i. (@_nayeli_jimenez) June 16, 2015
I think ruby rose is making me turn lesbian — M♡ (@braazillia) June 16, 2015
I WILL TURN LESBIAN FOR RUBY ROSE I SWEAR TO GOD — lydiaaaa (@mondzarella) June 16, 2015
There are even some interested male suitors who don't understand how biology works.
All these Ruby Rose posts make me wish I was a woman so I could turn lesbian for her — Jorge Lopez (@JorgeLopez136) June 16, 2015
I'm a guy and I'd go lesbian for ruby rose — Brady Nelson (@brady_jo_nelson) June 16, 2015
Of course, these responses do raise an important question concerning the negative impact of being flippant toward issues that seriously affect millions of real, actual gay people on a daily basis, but that's not as fun. I'll just leave this here:
All the girls who think they gay for ruby rose please jump off a cliff lol — dad (@tynan_k) June 16, 2015