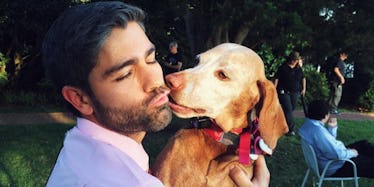 Adrian Grenier From 'Entourage' Was Naked On His Birthday And There's A Photo
Instagram
Remember Adrian Grenier from the hit HBO show "Entourage"? Yeah, well, he just turned 40 and to celebrate, he jumped in a pool... completely naked.
This historic moment was captured perfectly while Grenier was mid-cannonball and looking directly into the camera. The birthday boy posted the pic to his Instagram where he wrote in the caption,
Jumping into my 40's wearing my birthday suit.
As if this naked birthday photo wasn't enough of a gift to the world, Grenier also shared an uplifting message about animal rights and environmental conservation. In the second part of his caption, he wrote,
#makeasplash with me this year and let's make the world a better place together by showing love and compassion for ourselves, each other, and the natural world around us.
Just last month, he turned a photo of his lunch into a political statement, writing,
Here's an environmentalist's dilemma... the food was fine but I'm full and have no one to share it with. I don't want to contribute to the almost 50% food waste in our country. But this place uses plastic to-go containers and don't want to further pollute our precious planet and oceans with plastic. I can't wait for our civilization to evolve implement a better food/waste system so that I don't have to worry so much. I'm sorry I was a part of this sad moment.
P.S. Adrian Grenier, next time you have too much food and no one to share it with, call me.
Citations: Adrian Grenier Gets Buck Naked to Celebrate His 40th Birthday (ET)