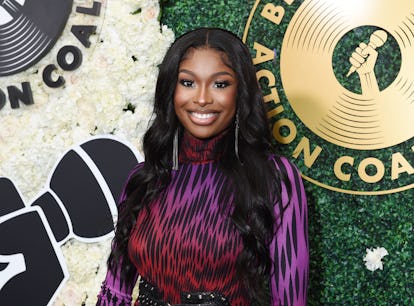 Wait, Did Coco Jones Just Hint At A Collab With Justin Timberlake?
Her not-so-subtle clues are *very* telling.
Gilbert Flores/Variety/Getty Images
Coco Jones has fans on their toes. Then again, that's a common feeling her fanbase has become accustomed to since she released her 2020 EP, What I Didn't Tell You. The debut project — a velvety ode to old-school R&B — excited listeners, especially those who've been rooting for her to shine since her early days on Disney. Now, nearly three years later, Jones is showing the record some well-deserved love. Recently, she revealed she's releasing a remix to the EP's lead single, "ICU," on July 14. She also teased a surprise guest will join her on the track, and Twitter is convinced it's Justin Timberlake.
On July 10, the Bel-Air actor announced the news on Twitter. "ICU Remix drops this Friday," she wrote, adding three clues about the yet-named featured artist. The hints included a photo of a river with a crying emoji, a shot of the Mickey Mouse Clubhouse, and a collage of early '90s and 2000s boy bands— think Boyz II Men, Backstreet Boys, and NSYNC.
Many fans noticed that Timberlake had a connection to the first two clues. Before his time with NSYNC, Timberlake starred on Disney's The Mickey Mouse Club alongside brewing stars like Christina Aguilera, Britney Spears, and Barbie's confidante Ryan Gosling. Then, shortly after NSYNC split in 2002, he released his debut (and second best album in his discography) Justified— which features his rainy hit, "Cry Me A River." Yeah, fans are definitely onto something with this speculation.
Users began connecting the dots and name dropped Timberlake instantly. A few fans theorized Jazmine Sullivan could be the artist, though she seemingly doesn't have ties to any of the clues. As for Timberlake, him potentially collaborating with Jones wouldn't be too farfetched. After reportedly leaving Disney in 2014, Jones began sharing singing covers on YouTube. Notably, two of them were buttery renditions of Timberlake's 2006 hit "Until The End Of Time" and his 20/20 Experience gem "Blue Ocean Floor."
Also, Timberlake has quietly been in the studio. In April, Timbaland — who's frequently collaborated with the singer in the past — told Variety they reunited to work on Timberlake's upcoming album. According to the producer, the project will embody a similar flare to their collaborative 2006 record, FutureSex /LoveSounds. With the "SexyBack" singer in album mode again, it wouldn't be too shocking to see him creating music with other artists.
Timberlake nor Jones have confirmed if the collaboration rumors are true. However, that hasn't stopped her fans on Twitter from gushing over the upcoming remix.
A day after Jones announced the remix, a fan account of the singer alleged Timberlake followed her on Instagram. While it's not clear if he was already following her before the clues-drop, this is quite interesting.