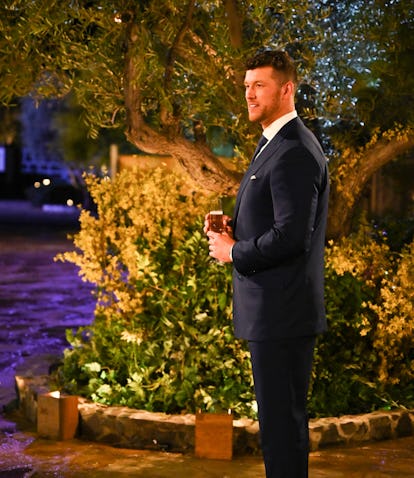 A Recap Of Every Single Elimination From Clayton's Bachelor Season
ABC/John Fleenor
Bachelor Nation never sleeps, or at least it can feel that way. The franchise has gone straight from Michelle Young's season of The Bachelorette right into Clayton Echard's season of The Bachelor, with just a quick break for the holidays in between. Now it's Clayton's turn to go from contestant to lead as he fights for the family he wants so badly. But the journey to love is always filled with drama on the Bachelor franchise, so Clayton's going to have to break a few hearts in order to write his own love story. Here's your recap of who went home each week on Clayton's season of The Bachelor.
Clayton wasn't the most obvious choice for the Season 26 Bachelor. Usually, the next lead is chosen from the final few contestants of the previous season, but Clayton was eliminated during Week 6 of Michelle's season, meaning he wasn't even one of her final four men. But even though fans didn't totally expect Clayton to be the Bachelor, Michelle fully supports the decision to have him step into the role. "I think Clayton is just so wonderful, so deserving of love, wants to find his person," Michelle told ET. "He's all in with opening up, he's all in with being vulnerable, so I think that he will get the most out of it."
As Clayton went "all in" on finding love, these are the women he sent home along the way:
The Bachelor Episode 10 Eliminations (March 15)
Oof. Well, we made it to Clayton's controversial Bachelor finale, and it was… rough. After Clayton admitted to Rachel and Gabby that Susie left because he was in love with all three of them, he had to convince both of them to stay. There were a whole lot of tears, but he succeeded, and he introduced both Rachel and Gabby to his parents. But even after all that, Clayton still couldn't stop thinking about Susie, so he asked Jesse to talk to Susie for him. So, Susie joined Clayton at his parents' Icelandic Airbnb for an important heart-to-heart.
Susie explained that she was humiliated by the way Clayton made her feel like "a stray dog he was shooing out" when they broke up. Clayton apologized and said he didn't mean the things he said; he only reacted out of fear. He asked her for a second chance, saying he thinks they have a love that could last forever, but Susie still needed time to think everything over.
While Susie took some time, Clayton already made a decision about his other relationships. "My heart is with Susie," Clayton said. "Gabby and Rachel have done nothing wrong and ultimately, I owe it to them to be honest with them and break up with them."
That's when Clayton sat down with Gabby and Rachel (at the same time) to tell them he needed to send them home. "I realized it's not feasibly possible for me to be in love with three women like I said I was," Clayton said. "My heart's no longer here. It's with Susie."
After the group breakup, Gabby immediately stormed off and when Clayton followed her, she called him out for being disrespectful and dishonest. When Clayton asked if he could walk Gabby out, she created a new iconic Bachelor franchise moment by simply replying, "No."
Rachel, on the other hand, shed a lot more tears over the breakup with Clayton. She told him he would regret breaking up with her. Even through Rachel's tears, though, Clayton didn't cry at all, which helped Rachel realize his feelings were not nearly as strong as hers.
After Clayton said goodbye to Gabby and Rachel, he sent a letter to Susie asking her to meet him for the final rose ceremony. "People of course are going to see this and think I'm crazy," Clayton said as he held an engagement ring, ready to propose to Susie.
During the rose ceremony, Clayton told Susie how serious he was about her, even flashing her the engagement ring box. But Susie couldn't reciprocate. She told him, "I don't feel like the kind of love that I have for you right now is the kind of love you have for me right now." Clayton then asked Susie if she thought there was any possibility they could try to work on their relationship together, but she turned down that idea, too. "I feel like it's over," she said. And with that, Gabby, Rachel, Susie, and Clayton all left Iceland and went home alone.
But! In a big ol' dramatic Bachelor twist, Clayton and Susie revealed during the finale's live "After The Final Rose" segment that they found their way back to each other after the show stopped filming, and they're now a couple.
"We were able to reestablish a relationship because we took that time apart," Susie explained. They shared that they're in love and moving in together in Virginia, right before Clayton finally offered Susie the final rose. She accepted, giving this Bachelor season an unconventional happy ending.
The Bachelor Episode 9 Eliminations (March 8)
After a tumultuous "Women Tell All" episode, it was finally time for Clayton's Fantasy Suite dates. He took the final three women to Iceland to explore their relationships on a deeper level, but right from the start, Susie was worried about Clayton's connection with the other women. She had to sit with those feelings for a bit, though, because Rachel got to have the first date.
Clayton took Rachel on a helicopter tour and they explored inside a volcano together. Then, during their dinner, Clayton told Rachel that he'd been holding back and that he was falling in love with her. That was the confirmation Rachel needed to move forward, and they spent the night together. By the next morning, Rachel and Clayton were exchanging full "I love you's" with each other.
Next, it was time for Gabby's date. After a dune-buggy adventure on the beach, Clayton thanked Gabby for opening up to him and helping their relationship move forward. They also spent the night together, and Clayton also told her he was falling in love with her.
Finally, it was time for Susie's date. She had a rough week spiraling about Clayton's other relationships, and the day portion of their date was almost as rough. Susie endured a hail storm and some freezing cold temperatures in a plunge pool at a spa, but the worst moment for her came when Clayton admitted he'd slept with and was in love with both the other women. Susie said she wasn't sure if she could move forward with Clayton after he told her that. Clayton got pretty upset about Susie's reaction.
"I don't know who I'm looking at anymore," Clayton told her, right before announcing that their relationship was over. With that, Susie was shockingly eliminated, leaving Clayton with his final two contestants:
The Bachelor Episode 8 Eliminations (Feb. 28)
We've made it to hometowns and Clayton's making some tough decisions. Going into Week 8, Clayton hadn't said "I love you" to any of the remaining four women because he knew "how much weight" the word holds, and before he could say the word "love," he needed to go home with the final four contestants.
First up, Susie brought Clayton home to Virginia Beach where they had a jiu-jitsu lesson with her former coach. After that, Susie explained to Clayton that it's really important for him to meet her dad because he represents "the gold standard" for what a person should be. However, it was Susie's mom who really held the power; Clayton told her that he wasn't yet in love with Susie, so she told Susie to "proceed with caution."
Next, Gabby brought Clayton home to Denver with her. She was a little upset because her dad couldn't be there because of health concerns. Instead, her aunt, uncle, grandpa, and cousin joined them for the date. Gabby was still missing her dad, though, so she was super emotional when he surprised her with a quick drive-by reunion to show his support. At the end of their date, Gabby told Clayton she was falling in love with him.
After that, Clayton met up with Serene in Oklahoma City. She made him face his fear of heights with an aerial obstacle course, and then she took him home to meet her family. Bachelor Nation fell in love with Serene's brother, Roland, and Serene told Clayton that she's in love with him.
Finally, Clayton went to Central Florida with Rachel. They went kayaking together before Rachel brought Clayton home to meet her family. She warned him that her dad has been really tough when she's brought people home to meet him in the past, so Clayton was understandably nervous. Rachel's dad said that if at the end of the night Clayton had his blessing, he would give Clayton a pat on the shoulder when they said goodbye. After talking things through with his daughter, he did end up giving Clayton that pat, and Clayton left feeling good about his future with Rachel.
With four relatively drama-free hometown dates, it wasn't clear where Clayton's head was at going in the rose ceremony. "This is uncharted territory, but I have to let someone go who I care about," Clayton said before he handed out the roses. Ultimately, he told Serene Russell he had to send her home.
These are the three women who will be getting overnight dates with Clayton:
The Bachelor Episode 7 Eliminations (Feb. 21)
The Mara-Sarah drama continued at the top of the Feb. 21 episode. At the cocktail party, Mara warned Sarah about bragging too much. She said she was getting in the other women's heads by talking too much about her relationship with Clayton. "The confidence is one thing, but it's starting to teeter on cockiness," she said.
In the end, though, Sarah won out over Mara. Immediately following the cocktail party, he sent home two women from the group who hadn't gotten one-on-ones at all during the season: Mara Agrait and Eliza Isichei — which, TBH, is pretty predictable at this point in the season. Seven women walked away from the ceremony with roses, some who'd already had roses from previous time with Clayton, and some who got them during the ceremony. Those women were:
Rachel
Teddi
Sarah
Susie
Serene
Gabby
Genevieve
After that rose ceremony, Clayton and the remaining seven women traveled to Vienna, Austria. There, Susie got to have another one-on-one date with Clayton. He took her on a shopping spree, and she even got to take home a one-of-a-kind design. Clayton gave her a rose, and Susie got to flaunt her new clothes to all the (rightfully envious) other women.
Then, it was time for a group date inspired by former Vienna resident, Sigmund Freud. Rachel, Teddi, Sarah, Gabby, and Genevieve each got to have a couples therapy session with Clayton. It was a tough date for everyone, but especially for Genevieve. She explained that she isn't used to expressing her feelings and Clayton said he felt like she'd had walls up throughout this journey. They both agreed that their relationship wasn't in a place where they feel ready to meet each other's families, and so they agreed it would be best for Genevieve to go home.
At the end of the group date, the therapist told Clayton someone seemed "performative" during their session. During the night portion of the date, Rachel, Teddi, and Gabby told Clayton that Sarah had been making them feel uncomfortable by sharing lots of details about her relationship with Clayton. Clayton learned she was saying things that he said weren't exactly true, and he worried she was being manipulative.
Clayton confronted Sarah about the situation and she denied it, but Clayton didn't believe her, so he sent her packing. "What we've built and what we have is so strong," Sarah said as Clayton said goodbye to her, but that didn't change his mind. Following all that drama, Clayton decided to hold onto the group date rose, saying he couldn't confidently hand it out after everything that happened.
Next, Clayton went on a one-on-one date with Serene. She told him she was falling in love with him and Clayton gave her a rose. That left two more roses for the rose ceremony, which went to Rachel and Gabby. Teddi was the last one eliminated, leaving these four women heading into hometowns:
The Bachelor Episode 6 Eliminations (Feb. 14)
The Great Shanae Showdown of 2022 finally came to a climactic end in the sixth episode of Clayton's Bachelor season. After making an enemy out of nearly every other woman this season, Shanae got sent on a two-on-one date with Genevieve Parisi to hash everything out. Shanae warned Clayton that he couldn't trust Genevieve, calling her an "actress." When Clayton asked Genevieve about Shanae's accusation, Genevieve was thrown off by the question and Clayton even needed a moment to himself to try to figure things out. Once he returned, he told the women that he finally had some clarity: He gave Genevieve the date rose and sent Shanae home. To say Shanae was upset was an understatement. She said she was "literally blindsided" and cursed Clayton's name. Meanwhile, the entire house celebrated the fact that Shanae Ankney was eliminated.
Then, it was time for the cocktail party and rose ceremony. After some especially sweet moments with Rachel and Sarah, Clayton made the tough decision to eliminate two more women: Hunter Haag & Marlena Wesh. That left nine women to continue on the journey with Clayton:
Genevieve
Rachel
Gabby
Sarah
Serene
Susie
Teddi
Eliza
Mara
After the rose ceremony, Clayton and the women hopped on a plane to travel to Hvar, Croatia. He explored the city on a one-on-one date with Teddi, who shared with him that she's a virgin. They said that their connection with each other is growing, and Clayton gave her a rose.
Then it was time for the group date, which Mara was disappointed to be on instead of getting a one-on-one of her own. Nevertheless, she decided to put her all into impressing Clayton on the group date where the women had to show off their knightly skills.
During the after-party, Mara decided to talk to Clayton about some of her concerns. She said that she knows she's a catch and she's been giving Clayton everything he's looking for in a wife, but she felt like she wasn't getting anything back from him. She was also particularly upset that Sarah had a second one-on-one date coming up when she herself still hadn't gotten her first one, and she told Clayton she was concerned he's focused on women who are too young and not serious about him, implying she was speaking about Sarah. After that conversation, Clayton didn't seem to be any more impressed by Mara. He gave Rachel the group date rose, and Mara still felt invalidated.
During Clayton's one-on-one date with Sarah, he confronted her about what Mara said about her. Sarah immediately started crying and told Clayton how serious she is about him. Clayton gave Sarah the rose, but their conversation sparked a bigger rivalry between Sarah and Mara, which is sure to unfold in the next episode.
The Bachelor Episode 5 Eliminations (Feb. 7)
During Week 4, Shanae's main nemesis Elizabeth was eliminated, but the Shanae drama was far from over. In fact, a few of the women took out their anger toward Shanae during that week's football group date by playing pretty aggressively against her on the football field. Shanae's team lost, which means they didn't get to go to the group date after-party. But that didn't stop Shanae from crashing it and having a make-out session with Clayton anyway. The episode ended on a cliffhanger when Shanae threw the winning team's trophy.
Suffice it to say, the women on the winning team were not happy that Shanae showed up. The Feb. 7 episode opened with them speaking with Clayton about Shanae at the cocktail party. But when Clayton confronted Shanae about all of it, she apologized and Clayton seemed to accept it.
That meant that Shanae made it through another rose ceremony, despite the other women's very vocal protests. Meanwhile, Jill Chin, Sierra Jackson, and Lyndsey Windham were eliminated. That left 12 women:
Rachel
Teddi
Serene
Sarah
Marlena
Genevieve
Mara
Gabby
Susie
Eliza
Hunter
Shanae
The Bachelor Episode 4 Eliminations (Jan. 31)
Shrimp-Gate 2022 is not over yet! After the drama between Shanae and Elizabeth reached a pinnacle all thanks to some unequally distributed shrimp in Week 3, Clayton raised the issue once again during the cocktail party at the start of the Jan. 31 episode. He spoke to Shanae and Elizabeth privately, and Shanae argued that she was being bullied by everyone in the house, especially Elizabeth. That conversation didn't really go anywhere, besides offering them another opportunity to rehash Shrimp-Gate. The rest of the women in the house got pretty much fed up with the whole situation. "I lost brain cells by listening to Shrimp-Gate," Jill said, speaking for pretty much everyone. With all the screaming about shrimp, Clayton decided to cancel the rest of the cocktail party and go straight to the rose ceremony.
In the end, Clayton gave Shanae a rose and decided to eliminate Elizabeth Corrigan, along with Kira Mengistu and Melina Nasab. After Clayton said those goodbyes, that left the following 15 women in the running for his heart:
Eliza
Gabby
Sarah
Marlena
Teddi
Rachel
Mara
Sierra
Susie
Jill
Serene
Genevieve
Hunter
Lyndsey
Shanae
The Bachelor Episode 3 Eliminations (Jan. 24)
Episode 3 of Clayton's season picked up right where the last one left off. During the cocktail party, Clayton had to confront Cassidy about her relationship history, specifically the fact that he heard she had another man waiting for her back home. When Clayton first sat down to talk to her, she denied recently speaking with anyone she was interested in romantically. But when Clayton pushed a little further, she admitted that she had a "friends with benefits" situation with another guy, but that she completely forgot about all of that once she met Clayton. It didn't matter, though, because Clayton said their trust was already broken. Clayton decided to take back the group date rose he had given her, and he sent Cassidy Timbrooks home.
Then it was time for the rose ceremony, and Clayton apologized for taking so much time that evening focused on Cassidy. Because of all the drama, he didn't get alone time with a lot of the women, but he still had to make some tough calls and eliminate an additional three women: Ency Abedin, Tessa Tookes, and Kate Gallivan. That left 18 women to continue on the journey with Clayton:
Sarah
Susie
Eliza
Rachel
Serene
Sierra
Teddi
Lyndsey
Jill
Gabby
Kira
Mara
Marlena
Genevieve
Hunter
Melina
Elizabeth
Shanae
Following the rose ceremony, Clayton had two group dates and a one-on-one. Eliza and Gabby won group date roses while Sarah got the one-on-one date rose. The episode ended on a cliffhanger, with the drama between Shanae and Elizabeth at an all-time high, and a promise for it to come to a head in the next week's episode.
The Bachelor Episode 2 Eliminations (Jan. 10)
The Jan. 10 episode started out with a fun, birthday party-themed group date with some kids, which gave Clayton the opportunity to emphasize (again) just how important it is to him to start a family, while the women on the date got to fangirl over guest judge Hilary Duff. Even though Cassidy Timbrooks didn't fully participate in the date, she spent a lot of time fawning over Clayton, which earned her the group date rose.
After that, the first one-on-one date of the season went to Susie Evans. They got the ultimate luxury experience by taking a helicopter directly onto a yacht. It provided the perfect backdrop for sparks to fly, and Susie received a rose.
The second group date this week was a Bachelor-themed relationship red flag obstacle course, led by comedian Ziwe Fumudoh. Sarah Hamrick won both the obstacle course and the group date rose. But the main focus of the date wound up being the big feud between Shanae Ankney and Elizabeth Corrigan during the after-party.
Shanae wasn't the only one stirring up drama though. During the cocktail party, it came out that Cassidy had a "friends with benefits" situation with a guy from home. The episode ended with no one going home, but there was a big cliffhanger: Clayton asked if anyone has ever taken a rose back, so it looks like Cassidy might be in danger of getting eliminated in the next episode.
The Bachelor Episode 1 Eliminations (Jan. 3)
Clayton's season of The Bachelor got off to a chaotically exciting start. He welcomed 31 women to the original Bachelor Mansion, hoping to find his future wife in one of them. He definitely felt the sparks fly with some of the women, like his First Impression Rose recipient, Teddi Wright, whose first kiss with Clayton gave him "chills."
Other women didn't have as magical a Night 1 as Teddi, though. First off, there was Salley Carson, who technically didn't even actually make it to the Bachelor Mansion. She was coming fresh out of an engagement to another man — like, really fresh: Her bachelorette party for her canceled wedding had been just a few weeks before filming for this season of The Bachelor began. Salley realized ahead of the limo entrances that she actually wasn't ready to pursue a relationship with Clayton, so she self-eliminated, even after Clayton offered her a rose for being so honest with him.
Then there was Claire Heilig, who at least made it past the limo entrances, but did not last until the first rose ceremony. Claire brought a lot of feisty energy to Night 1 that turned a lot of the women off, so much so that they decided Clayton needed to talk to her right away. He did and realized she didn't really want to be a part of his season, so he decided to eliminate her in the middle of the cocktail party.
Clayton was rejected a third time before his first night as Bachelor was over, but this one wasn't shown on air. Samantha Jeffries — who made a splash during limo entrances when she rolled up to the Bachelor Mansion in a bubble bath — wrote on Instagram that she'd had a private conversation with Clayton during the premiere's cocktail party and decided he wasn't the one for her, so she left. "As much as I wanted to stay, it would not have been fair to try to take his heart, as well as take the opportunity away from a woman who was all in," she wrote on Jan. 4, the day after the premiere aired. For some reason or another, this wasn't shown on the episode.
Once the rose ceremony finally did happen, Clayton eliminated another six women: Daria Rose, Hailey Malles, Ivana Noble, Jane Paik, Lindsay Rae Dobbs, and Rianna Hockaday. That leaves 22 women to continue to fight for Clayton's heart. Those women are:
Teddi
Serene
Susie
Eliza
Rachel
Ency
Sarah
Kate
Cassidy
Elizabeth
Kira
Shanae
Sierra
Mara
Marlena
Genevieve
Melina
Gabby
Jill
Lyndsey W.
Hunter
Tessa
Season 26 of The Bachelor airs Mondays at 8 p.m. ET on ABC.
This article was originally published on