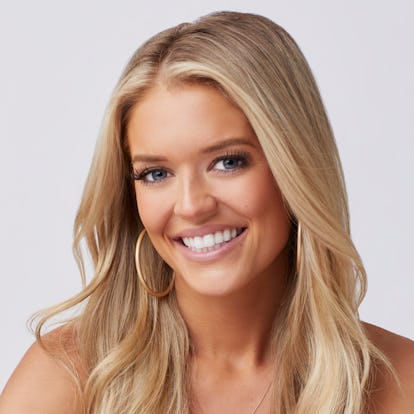 Everything To Remember About Salley From Clayton's Bachelor Season
She didn't even make it out of the limo.
ABC/Ricky Middlesworth
Usually, when a contestant goes on a reality dating show like The Bachelor, the assumption is that they're single and ready to, well, date. So when ABC released the list of possible contestants for Clayton Echard's season of The Bachelor on Sept. 25, 2021, and fans noticed one of them — Salley Carson — was supposed to have a wedding on Sept. 26, 2021, some red flags were raised, to say the least. Salley made a very brief appearance on Clayton's season, and now she might back for Bachelor In Paradise Season 8. Here's your refresher on all the Bachelor Nation drama surrounding Salley.
Right after Salley's name and bio were released by ABC ahead of The Bachelor Season 26, popular Bachelor franchise blogger Reality Steve posted screenshots of an Instagram from Salley's bachelorette party in August 2021 and of a Crate & Barrel registry for a wedding set for Sept. 26, 2021. That alerted fans to the fact that Salley reportedly was engaged just before filming The Bachelor, but she reportedly called off her wedding because her ex-fiancé was secretly still legally married to someone else. It's all dramatic enough to warrant a TV show of its own, but until Hollywood jumps on this story, viewers at least have the Bachelor franchise to deliver all the Salley-related drama.
Salley Carson's Bachelor Nation Journey
Even before Salley appeared on Clayton's season, ABC fully leaned into the drama by listing her official job title in her bio as "previously engaged." Then, once the season began, Salley's broken engagement (understandably) stuck with her. Filming for Night 1 of Clayton's season was the same weekend Salley's canceled wedding was supposed to take place, so she was feeling conflicted about beginning her Bachelor Nation journey, to say the least.
Five hours before the limo entrances for Clayton's season were set to film, Salley had an on-camera convo with Clayton about her hesitations. Even though Salley was telling Clayton she wasn't sure she could commit to his Bachelor season, he still felt a spark with her and even offered her the first rose of his season... which she turned down.
"I know we both felt that connection and I really like you," Salley told Clayton. "I want to accept that rose. My heart is just not in the place where I can, and I feel so bad about that."
Salley was the first to leave Clayton's Bachelor season, but her journey to find love could be continuing with Bachelor In Paradise Season 8, since the trailer for the season hints at her (or at least her vibrator) making an appearance on the show.
Salley Carson's Real Job
Salley's job may be listed as "previously engaged," but she *does* also have an actual job that pays her money. According to her ABC bio, the 26-year-old is a spine surgery robot operator. She graduated from the University of South Carolina, Columbia with a Bachelor of Science degree in 2017, and later attended Medical Sales College. Salley doesn't want to remain in the medical field forever, though; according to her bio, her dream is to one day open a clothing store.
Salley Carson's Instagram
Salley doesn't seem to post a ton on Instagram. When Salley does post, she tends to share photos of her close-knit family and friends. There seems to be a remaining photo of Salley with her reported ex-fiancé, Avery Buchholz, but it's grouped with a bunch of photos and videos with other friends.
Recently, Salley's been posting about returning to her life in South Carolina post-engagement, as well as a quick video of her at the Stagecoach festival in April 2022.
Salley Carson Facts
Salley is from Charlottesville, Virginia, and describes herself in her ABC bio as "religious, family-oriented and adventurous." She hates cotton balls and "can't be near them," which seems like it would be a difficult thing to do when you work in the medical field. But she's obsessed with hot tubs, which seems perfect for life in Bachelor Nation.
Season 8 of Bachelor In Paradise airs Mondays and Tuesdays at 8 p.m. ET on ABC.
This article was originally published on