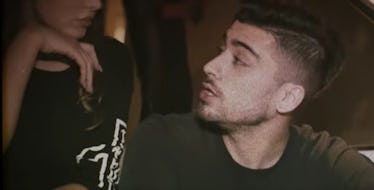 Zayn Malik Dropped A New Music Video With PartyNextDoor And It's Super Raunchy
YouTube
It feels like yesterday Zayn Malik was 17 years old singing Mario's "Let Me Love You" during his "X Factor" audition.
He was so young, so pure and so unaware of how tatted up and sexual he would become.
Fast forward to 2017 and we have... this.
Woahhhh, Zayn. You're making me feel things.
The 24-year-old former One Direction singer just dropped a new music video and it's hella raunchy.
Zayn is a big boy now, and big boys release big boy vids. It's just how this world works, you know?
The new music video is for the song "Still Got Time" featuring PartyNextDoor. It opens with Zayn smoking at a party, and the rest is history.
There are boobs (LOTS OF THEM!!!) and piercings and tattoos and alcohol. There are dance parties and people passed out on the ground.
It pretty much looks like the kind of high school party my mother had nightmares about when I was 16.
There are also a bunch of sexy make-out sessions and sex and BUTTCHEEKS. Yeah, cover your eyes, babies!
Gigi Hadid doesn't make an appearance in the video, probably because she had enough camera time in "PILLOWTALK."
Yeah, remember when their PDA was out of control 'cause they just made out the whole video?
GOOD. TIMES.
I wish I had a musical boyfriend. My ex was a musician, haha. (I still love you, babe...)
It looks like all of the One Direction boys have found success -- in some way -- after the band split up.
Harry Styles just released "Sign Of The Times," Niall's "This Town" won a People's Choice Award, and Liam and Louis both have babies.
Yup, it's been a pretty crazy year and a half!
No matter where these boys take their music (and their children, lol) they will always have a special place in my heart.
Nobody can drag you down, boys. Never forget that.
Citations: Zayn Malik New Music Video (E Online)