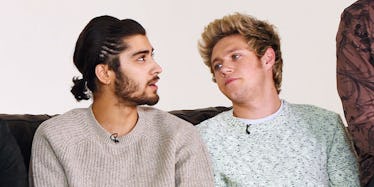 Zayn Malik Lost To Niall Horan For A People's Choice Award, So That's Awkward
REX/Shutterstock
The People's Choice Awards aired Wednesday night and buzz surrounding the ceremony ranged from the usual, "Who gives a shit?" to typical, "Seriously, I don't fucking care."
The sauciest pot of drama at this year's cookout was the hot competition between former One Direction members Niall Horan and Zayn Malik for Favorite Breakout Artist.
Any celeb who understands the true spirit of the People's Choice Awards (see above) honors the event with the honest gesture of forgetting it's even occurring, so neither Niall nor Zayn attended the ceremony.
Still, Niall's single, "This Town," scored him the statue over Zayn Malik's album, Mind of Mine, leading 1D fans online to cry out a litany of dispassionate sentiments along the lines of "whatever," but also "eh."
Zayn has yet to reach out to Niall via Twitter to congratulate him on his victory, though judging by Niall's statements to ET back in September at the American Music Awards, neither of the boys will be exchanging pleasantries any time soon.
The 23-year-old told the site,
I haven't spoken to him in a few months or whatever, and haven't seen him in a while.
Losing a PCA to Niall is hardly the craziest thing that's happened to Zayn all week, considering the engagement rumors circulating the internet and the real goddamn world.
Zayn Malik's lady love, model Gigi Hadid, casually strolled around town with what appeared to be an engagement ring on THAT finger Tuesday afternoon.
Initial engagement rumors — the ones that hit the web circa Christmas — claimed Geeg turned Zayn down.
A source told The Sun,
She's only 21 and doesn't feel ready to tie the knot, so she turned him down… She's seen her mom go through two messy divorces, so Gigi wants to make 100 percent sure Zayn's the one before she makes a lifetime commitment.
It looks like Gigi has reconsidered her position, despite Zayn having ZERO completely inconsequential People's Choice Awards.
Citations: Niall Horan Beats Zayn Malik for Favorite Breakout Artist at People's Choice Awards (Entertainment Tonight)