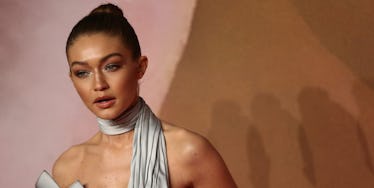 Gigi Hadid Fuels Zayn Malik Engagement Rumors With New Ring On That Finger
REUTERS
Hm, what are Gigi Hadid and Zayn Malik hiding?!?!?!
Kendall Jenner's best friend has been walking around with a ring on her finger. This could mean one of two things:
Supposedly, celebs nowadays are wearing fake engagement rings. Is it to fake out the paparazzi? Is it a style thing? Are we reading too far into this? Maybe. Maybe. Probably. The point is they wear them and it's super confusing when trying to verify hot hot hot celeb goss.
GIGI AND ZAYN ARE FRIGGIN ENGAGED! A WEDDING IS HAPPENING! A FRIGGIN ONE DIRECTION WEDDING IS HAPPENING, EVERYBODY! YOLANDA HADID IS RIGHT NOW PLANNING TRIPS TO A WEDDING CAKE MAKER AND EVERYONE IS JOKINGLY ASKING BELLA WHEN SHE'S PLANNING ON SETTLING HERSELF DOWN!!!!!!!
Either way, we need to talk about what's going on with Gigi Hadid's ring finger.
WHAT DOES THIS MEAN?!?!?!?!
WHAT ARE YOU HIDING FROM US?!?!?!
HOW ARE YOU SOOO CASUAL ABOUT THIS?!?!?!?
The footage was taken of Gigi walking around Manhattan with a gold band clearly on her ring finger, which is really weird timing considering we're a few weeks removed from Gigi reportedly turning down Zayn's Christmas marriage proposal.
A source close to Gigi and Zayn told The Sun she turned him down because,
She's only 21 and doesn't feel ready to tie the knot, so she turned him down.
Going on to say,
She's seen her mom go through two messy divorces, so Gigi wants to make 100 percent sure Zayn's the one before she makes a lifetime commitment
This ring suggests otherwise though. Nobody gets proposed to, says no and then gets to keep the ring.
I mean, I've never been engaged before so I can't confirm if that's the hard-and-fast rule, but just based on logic I'm pretty sure that's not how it goes.
Soooo, once again... WHAT ARE YOU TWO GOOFBALLS HIDING?!?!?
Citations: Gigi Hadid Sets Off The Zayn Malik Engagement Rumors With A New Gold Ring On THAT Finger (Perez Hilton)