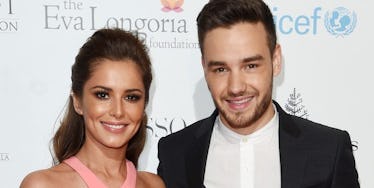 Liam Payne Shares First Photo Of His Baby Son With Cheryl In Touching Instagram
REX/Shutterstock
Liam Payne is a father, and literally no one can believe it.
The 23-year-old ex-One Direction singer welcomed his new baby boy on March 22, and announced it on March 25 in an emotional Instagram post.
If you don't follow his every move on Tumblr (LMAO, who r u?!), you might not have realized Liam has been expecting a son with his 33-year-old girlfriend Cheryl Cole.
Well, around 4:30 pm, Liam broke the news to his followers and friends on Instagram, and the post will make you feel weird/confused/emotional as fuck.
He posted a picture of him holding his newborn son (SURPRISE, IT'S A BOY!) in his arms and captioned the post,
My close friends and family know there are very few times when I'm left speechless... wow! I'm incredibly happy to welcome our new baby boy into the world, it's a moment that I will never forget for the rest of my life and my favourite memory I have so far. I'm completely in awe of his incredible mother and how she has been the whole way through this, she's really made my dreams come true. We haven't named him yet but he's already capturing hearts including mine. I feel very blessed. Happy Mother's Day everyone!
WHAT THE HELL DID I JUST READ?!
Liam Payne — FUCKING LIAM PAYNE — is now a father. Pretty crazy, right?
If you want to hear something even crazier than the fact Liam has a baby with the "X Factor" judge he auditioned for as a 14-year-old loser, then guess what? This announcement also comes on the two-year anniversary of Zayn Malik leaving One Direction!
Everything just comes full circle, doesn't it?
Cheryl shared the same picture of Liam on her own Instagram account, but she added some extra JUICY info about their baby boy. She said,
On Wednesday 22nd March Liam and I became parents to an incredibly beautiful, healthy baby boy, weighing 7lb 9 and looking like a dream. Although he still doesn't have a name he is already stealing hearts. We are all madly in love and overwhelmingly happy with our little arrival. Happy Mother's Day to all the mothers around the world. A day that now has a different meaning to me forever
THAT'S ONE BIG BABY. Just kidding. I was 10 pounds when I left the womb, so who am I to judge?
Congrats on your child, Liam! I can't believe I just said that.