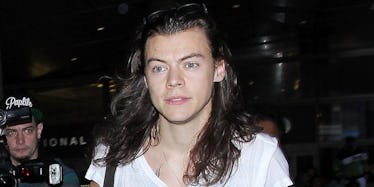 Harry Styles Posted A Pic For His New Single And Fans Are Creeped Out
REX/Shutterstock
Harry Styles, who we can only assume has been cryogenically frozen for the past year, has returned to us with sweet, sweet music.
He left us with nothing but Zayn and goddamn Niall to serenade us since last March, and though anger may feel like the easy route, we owe it to ourselves to give Harry a chance to win us back.
Can you find it in your hearts? Because the time is now. Or, the time is in, like, two weeks.
The former One Direction frontman (be honest) shared cover art for what appears to be his new single, "Sign of the Times," dropping April 17.
Yes, OK, fans are psyched he's back with some solo material.
@Harry_Styles *tries to control emotions; FAILS* pic.twitter.com/YUjBNrzxuB — Brian A. Hernandez (@BAHjournalist) March 31, 2017
But too many are confused about what's happening in that photo.
Others are plain ol' freaked out.
The Instagram post wasn't Harry's first announcement heralding his impending solo career.
On Saturday's episode of the UK's "The X Factor," the singer shared a trailer with fans.
Yeah, a trailer. He shared a trailer for his debut single. I know. This boy is beyond extra, but we created this delicious monster, so we might as well die by his hand.
Don't go ahead assuming Harry's new stuff will be anything like his work in 1D. According to NME, his solo style is rumored to sound like a combination of David Bowie and Queen.
No big deal, just two late music icons who shaped a genre and continue to live on in our hearts eternally.
One week after his single drops, Harry will perform it on "Saturday Night Live."
Harry fans who hate music but love wartime cinema are going to have to wait a little longer to see him act his little heart out in "Dunkirk," arriving in theaters July 21.